Federal Judge Orders the White House to Return CNN Reporter Jim Acosta's Press Credentials
Acosta after the ruling: "Let's go back to work!"
Photo by Mark Wilson/Getty
Politics
News
Jim Acosta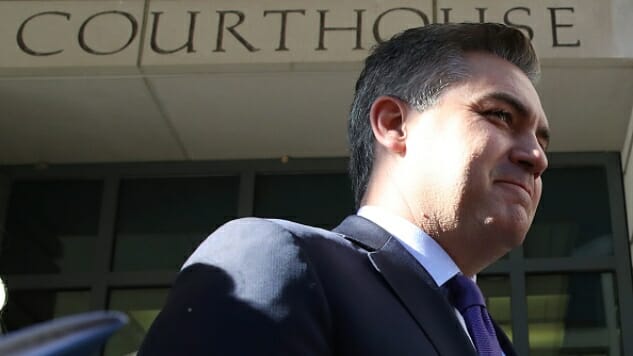 A federal judge has ordered the Trump administration to return the White House press credentials of CNN reporter Jim Acosta, per the AP.
U.S. District Court Judge Timothy Kelly, a Trump appointee, announced his decision Friday morning, granting CNN's application for a temporary restraining order and ordering the government to reinstate Acosta's pass.
The White House suspended Acosta's press credential after a contentious news conference on Nov. 7. Press Secretary Sarah Huckabee Sanders alleges that Acosta refused to surrender the microphone and placed his hands on a White House intern, who tried to take the microphone back, later sharing a doctored video in support of the dubious claim.
The decision is an early win for CNN in its lawsuit against Trump and several top aides, which asserts that the White House's revocation of Acosta's press credentials violated his First and Fifth Amendment rights. CNN requested that Acosta's credentials be returned throughout the lawsuit process. Kelly's decision is short-term and further hearings will need to take place in the next few weeks.
Kelly's ruling notably sets the precedent that the White House should give due process to reporters and news outlets before taking away credentials.
As CNN's chief White House correspondent, Acosta has clashed more than once with the Trump administration in briefings. Trump has been vocal about his dislike of CNN, which he deems "fake news," both before he took office and throughout his presidency.
After the ruling, Acosta had one quick remark to make: "Let's go back to work!"