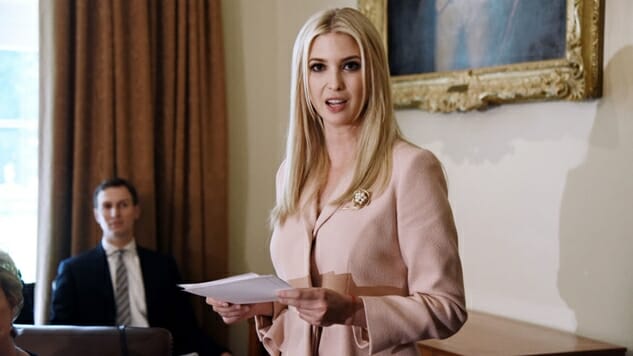 The market has spoken, and it has sent a clear message to the senior administration official: the days of paying too much money solely because it has Ivanka Trump's name on it are done. Per PageSix:
Sources say that it will be shuttered "ASAP" and that staff have been informed that they're being laid off.
Since the inauguration of her father, President Donald Trump, her line of midpriced shoes, purses, clothes and accessories has been dropped by stores including Nordstrom, Neiman Marcus, Jet.com, DSW, Shoes.com, Belk, ShopStyle and Gilt, according to Business Insider. It was most recently jettisoned — in July 2018 — by Canadian chain Hudson's Bay.
Nordstrom parted ways with the brand, which was launched in 2014, as far back as February 2017, citing "brand performance."
This episode is instructive as to how the mainstream media treats the daughter-in-chief with kid gloves, as CNN would have you believe that the reasons are entirely due to her "public service." Per CNN:
Ivanka Trump has decided to wind down her company after deciding to pursue a career in public policy instead of returning to her fashion company.
Trump's clothing and accessory business has been operating with limitations to reduce potential violations of ethics laws and the perceptions she's profiteering off her White House role. Given those restrictions, Ivanka, who serves as a senior adviser to President Donald Trump, decided it didn't make sense to keep the company running if she's not returning after her father's presidency, two people with knowledge of her decision-making process told CNN.
"When we first started this brand, no one could have predicted the success that we would achieve. After 17 months in Washington, I do not know when or if I will ever return to the business, but I do know that my focus for the foreseeable future will be the work I am doing here in Washington, so making this decision now is the only fair outcome for my team and partners," Ivanka Trump said in a statement.
Despite the "limitations" on Ivanka's "profiteering," the senior adviser to the president somehow managed to secure important trademarks in China that I'm sure had no influence on public policy in this kleptocratic administration. There was one mention of the brand's financial impotence in CNN's story, and it was about Nordstrom dropping it. Sure, Ivanka's public service had a definite influence on this decision, but it's clear that it's an actively negative impact. The brand was successful before she stapled herself to white supremacy, and now it's not. It doesn't take a genius to figure out what happened.
Jacob Weindling is a staff writer for Paste politics. Follow him on Twitter at @Jakeweindling.