Detaining American Citizens, Threatening Cultural Landmarks: What You've Missed in Trump-Iran
Photo courtesy of Getty
Politics
Features
Iran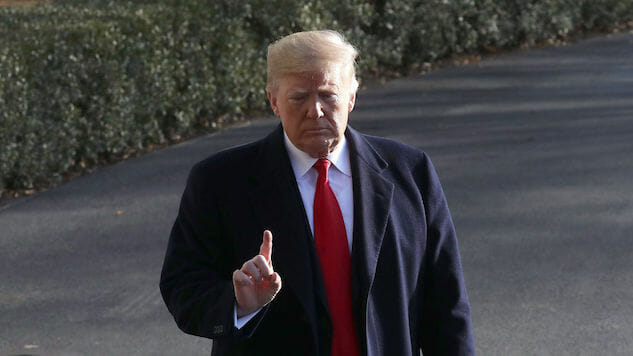 If you tuned out from the Trump-Iran fiasco over the weekend, welcome to Monday's rude awakening. There haven't been any new attacks since last week, but there are manifold threats from Iran that they're coming after U.S. military personnel, which was echoed by Hezbollah in Lebanon and led to posturing like this from Trump:
These Media Posts will serve as notification to the United States Congress that should Iran strike any U.S. person or target, the United States will quickly & fully strike back, & perhaps in a disproportionate manner. Such legal notice is not required, but is given nevertheless!

— Donald J. Trump (@realDonaldTrump) January 5, 2020
In case there was any doubt as to who had won the hearts in minds in Iraq, their parliament voted to expel U.S. troops, and huge amounts of Iranis flooded the streets of Tehran for the funeral of Qasem Soleimani, where the people chanted "Down with the U.S." and cheered wildly when his daughter Zeinab said that the families of U.S. soldiers "will spend their days waiting for the death of their children."
Somehow, though, none of this is quite as disturbing as what's happening on the home front, where two stories from the weekend continued to chip away at the notion that there was even a speck of integrity in our leaders. We shouldn't be surprised that one of the appalling stories comes from our border—though in this case it's the Canadian border. Per the NYT:
Dozens of Iranians and Iranian-Americans were held for hours at Washington State's border with Canada over the weekend as the Department of Homeland Security ramped up security at border ports after Iran threatened to retaliate against the United States for the strike that killed its top military leader.
More than 60 of the travelers, many returning from work trips or vacations, were trying to come home to the United States on Saturday when agents at the Peace Arch Border Crossing in Blaine, Wash., held them for additional questioning about their political views and allegiances, according to advocacy groups and accounts from travelers.
While most of the travelers were allowed back into the U.S., "advocates" told the Times that some were denied entry. Even some of those who made it through were questioned "for up to 10 hours." One woman, who had two children ages 5 and 7 with her, had to leave the room to cry so she wouldn't scare them. The CBP denied that the "secondary screenings" were due to Iranian heritage, but the facts on the ground clearly stated otherwise.
The second story, which had less of a human toll (for now), is discouraging for other reasons. While ranting on Twitter about attacks and counter-attacks, Trump let this gem drop:
….targeted 52 Iranian sites (representing the 52 American hostages taken by Iran many years ago), some at a very high level & important to Iran & the Iranian culture, and those targets, and Iran itself, WILL BE HIT VERY FAST AND VERY HARD. The USA wants no more threats!

— Donald J. Trump (@realDonaldTrump) January 4, 2020
He later backed it up on Air Force One:
Aboard Air Force One on his way back from his holiday trip to Florida, Mr. Trump reiterated to reporters the spirit of a Twitter post on Saturday, when he said the United States government had identified 52 sites for retaliation against Iran if there were a response to Maj. Gen. Qassim Suleimani's death. Some, he tweeted, were of "cultural" significance.
Such a move could be considered a war crime under international laws, but Mr. Trump said Sunday that he was undeterred.
"They're allowed to kill our people. They're allowed to torture and maim our people. They're allowed to use roadside bombs and blow up our people," the president said. "And we're not allowed to touch their cultural site? It doesn't work that way."
Which removes any doubt—Trump and the U.S. military are considering destroying cultural sites as part and parcel of their strategy with Iran. There's no good reason for this, beyond petty cruelty and the desire to inflict psychological harm on the Iranian people. It's exactly the kind of thing the Nazis did, and it's both pointless and disgraceful. It can only have been dreamed up by people who don't really care for culture or history, any more than they care for human life. These are the people we put in power, and we reap the whirlwind for that every day.