Japanese Tanker Operator Denies Being Hit By Iranian Mines, Blames "Flying Objects"
Photo courtesy of Getty
Politics
Features
Iran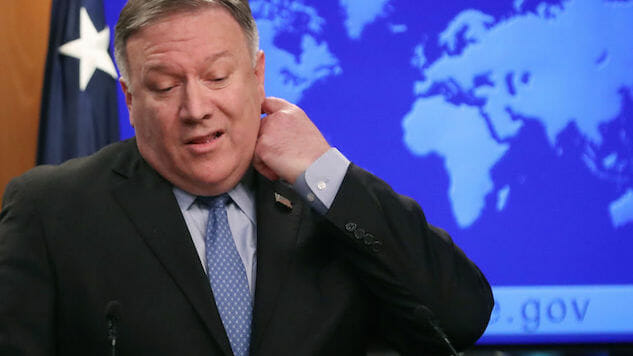 Earlier today, we wrote about the enormous push for war with Iran coming from the White House, and particularly the hawkish team of John Bolton and Mike Pompeo. The latest escalation comes after two tankers were attacked with explosive devices in the Gulf of Oman, and the U.S. immediately pointed the finger at Iran (Iran denies involvement). One big piece of evidence came from video footage of a boat seemingly removing a mine. Per the NYT:
The most compelling evidence to support Mr. Pompeo's claim was video footage released Thursday night by the United States Central Command. A military spokesman, Capt. Bill Urban, said the video showed an Islamic Revolutionary Guards Corps patrol boat pulling up alongside the Kokuka Courageous, one of the stricken ships, several hours after the initial explosion, and removing an unexploded limpet mine in broad daylight.
However, the Japanese operator is now saying that no mines were involved at all.
One of the tankers that were attacked in the Gulf of Oman was struck by a flying object, the ship's Japanese operator said on Friday, expressing doubt that a mine had been attached to its hull…
…Yutaka Katada, the company's president, citing accounts from the ship's crew, said Friday: "I do not think there was a time bomb or an object attached to the side of the ship."
"Our crew said that the ship was attacked by a flying object," Mr. Katada said of the incident on Thursday.
Katada went on to say that the object in question could not have been a torpedo, since it struck the tanker well above water. His version of the story casts doubt on Pompeo's claim that there were mines attached to the ship at all, as well as the implication that mines caused the initial damage.
This, of course, doesn't mean that Iran wasn't responsible, and Trump has since come out and asserted that Iran was responsible. But it does raise questions about the U.S. intelligence version of what happened in the Gulf of Oman on Thursday, as tensions rise, it's hard not to ask the simple question of "who benefits?" as we get closer to the war with Iran that senior administration figures covet so badly.
There's also this:
The attacks in the Gulf of Oman on Thursday occurred as the Japanese prime minister, Shinzo Abe, was meeting top officials in Iran, attempting to bridge the divide between Washington and Tehran.
The timing continues to raise head-scratching questions.