Canadian CEO Blames Trump Administration for Iranian Plane Crash
Photo by Drew Angerer/Getty
Politics
News
Iran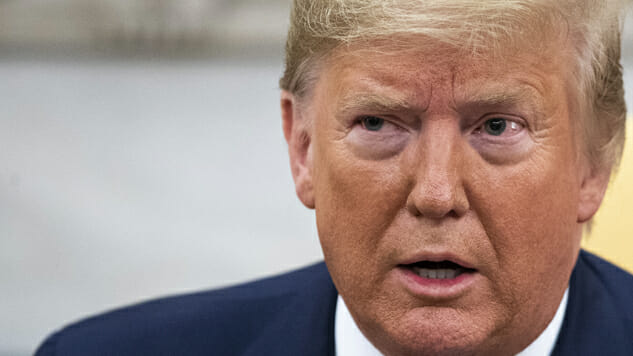 Last week, Tehran admitted to mistakenly shooting down a Ukrainian passenger jet, which resulted in the deaths of 176 people. Now, a week later, many are questioning the Trump administration's complicity in the incident.
The CEO for a Canadian food packaging company, Maple Leaf Foods, tweeted a thread from the Maple Leaf Foods Twitter account on Sunday night with some "personal reflections" on the plane's crash. In the thread, Michael McCain states that a MLF employee employee lost both his wife and 11-year-old child in the plane crash. He later referred to "a narcissist in Washington" (one guess at who that is) tearing accomplishments the world has made apart, blaming his administration and executive decisions for the current Middle Eastern destabilization.
I'm Michael McCain, CEO of Maple Leaf Foods, and these are personal reflections. I am very angry, and time isn't making me less angry. A MLF colleague of mine lost his wife and family this week to a needless, irresponsible series of events in Iran…

— Maple Leaf Foods (@MapleLeafFoods) January 13, 2020
The plane was shot down shortly after leaving Tehran's airport, "collateral damage" after an attempted missile strike on US-housed troops at Iraqi military bases. Among the victims were 82 Iranians, 57 Canadians, 11 Ukrainians, 10 Swedes, four Afghans, three Germans and three British. The incident, which McCain referred to as a "needless, irresponsible series of events," highlights the grand mishandling of innocents by the U.S. government, as well as the growing global tension radiating from Iranian-American relations.
The White House has yet to comment on the tweets from McCain. Just Friday, Treasury Secretary Steven Mnuchin announced there would be further sanctions on Iran.
Read McCain's full thread below.
…U.S. government leaders unconstrained by checks/balances, concocted an ill-conceived plan to divert focus from political woes. The world knows Iran is a dangerous state, but the world found a path to contain it; not perfect but by most accounts it was the right direction…

— Maple Leaf Foods (@MapleLeafFoods) January 13, 2020
…The collateral damage of this irresponsible, dangerous, ill-conceived behavior? 63 Canadians needlessly lost their lives in the crossfire, including the family of one of my MLF colleagues (his wife + 11 year old son)! We are mourning and I am livid. Michael McCain.

— Maple Leaf Foods (@MapleLeafFoods) January 13, 2020