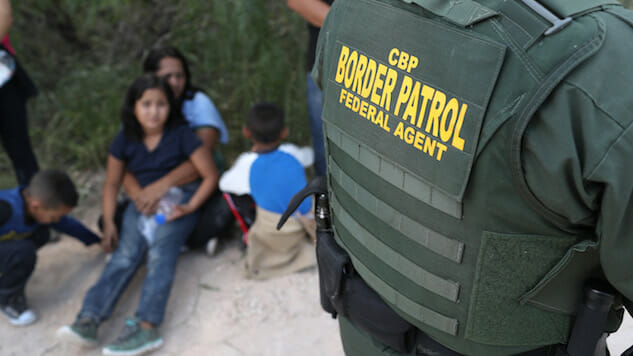 On the same morning that President Trump hinted that he'll use the power of executive order to force a citizenship question onto the 2020 census, the New York Times reports that the multi-city sweep of undocumented immigrants that Trump announced weeks ago, and then delayed, will begin this weekend.
Nationwide raids to arrest thousands of members of undocumented families have been scheduled to begin Sunday, according to two current and one former homeland security officials, moving forward with a rapidly changing operation, the final details of which remain in flux.
The raids will be conducted by ICE, and if the concept of a gestapo-like organization rounding up undesirables in America wasn't bad enough, there's another horrifying angle to this, and it's called "collateral deportations":
The raids, which will be conducted by Immigration and Customs Enforcement over multiple days, will include "collateral" deportations, according to the officials, who spoke on the condition of anonymity because of the preliminary stage of the operation. In those deportations, the authorities might detain immigrants who happened to be on the scene, even though they were not targets of the raids.
The raids will be conducted in at least ten cities, targeting at least 2,000 immigrants. Those who ICE manages to round up will be held in detention centers in Texas and Pennsylvania, or in hotel rooms when space isn't available.
The original delay in the raids came about partly because of public opinion, but also partly because of division within Homeland Security itself—some of whom don't want to spend their days arresting children and babies. Plus, it might not work:
The agents have also noted that the operation might have limited success because word has already spread among immigrant communities about how to avoid arrest — namely, by refusing to open the door when an agent approaches one's home. ICE agents are not legally allowed to forcibly enter a home.
As with may of Trump's immigration policies, the idea behind this one is not entirely oriented in a practical decision. It's more like a show of strength, imparting fear to a vulnerable community. Like the detention of children at the border, there's very little doubt that Stephen Miller, Trump's advisor, played a role in devising the sweeps.
Kevin McAleenan, the acting secretary at Homeland Security, seems to be the leader of the "opposition" to the operation, and argued the last time the raids were imminent that separation between children and parents was inevitable. He, along with Democrats, succeeded in delaying the operation last time, but it looks as though ICE will not be deterred this time around.