Barr Decision Will Keep Thousands More Migrants Waiting in ICE Detention Centers for Months
Photo by Mark Wilson/Getty
Politics
News
Immigration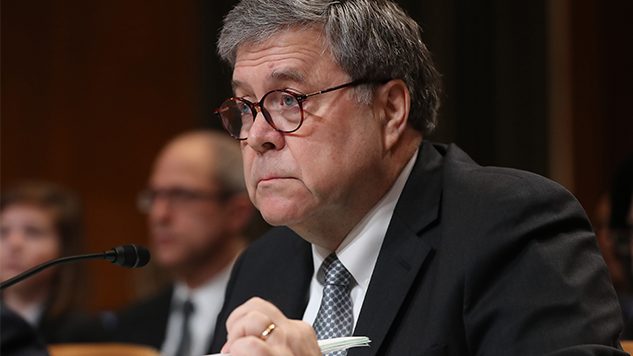 On Tuesday, Attorney General William Barr set an unsettling new precedent in the treatment of asylum seekers, which will lead to the extended lock-ups of thousands of migrants. NBC News explains:
In his decision, Barr said that asylum seekers who begin in expedited removal, in which they are not given the right to see a judge, and are then transferred to full removal proceedings, in which they wait to make their case before a judge, should not be released on bond. It means that thousands of asylum seekers who once would have been out on bond and living in the U.S. while awaiting a decision on their status will now be kept in detention centers, where the wait times are climbing from months to a year.
Capacity is the key question here, Sarah Pierce, a policy analyst with the Migration Policy Institute, told NBC: "This ruling gives [Immigration and Customs Enforcement] the legal authority to detain all of these people indefinitely. That's if they have the capacity. So I think the actual effect of this ruling will be severely limited by ICE's capacity."
Barr's decision will be implemented in 90 days to give ICE time to build up the capacity for the increased number of people who will need to stay in detention centers. ICE is already struggling to make space for the current number of migrants they have locked up, and in such situations they do award contracts to state and local jails, along with prison companies, to hold those they cannot fit. On top of the fact that those in ICE detention centers receive such horrific treatment that they go on hunger strikes (and are then force-fed), the fact that Barr's decision could feed America's ethically bankrupt prison-industrial complex is disturbing.
Immigrants numbering in the thousands will be affected by Barr's decision, NBC reports, as those who enter the U.S. without documents or with possibly forged documents are placed in expedited removal and are then given the credible fear interviews, which 90 percent of asylum seekers pass. A small silver lining, though, is that Barr's precedent will not apply to families with kids under 18, as minors cannot be detained for over 20 days.
As for the legality of Barr's move, Michael Tan, an attorney for the ACLU, says that the organization plans to sue the Trump administration over this decision. Tan explained to NBC:
The attorney general's decision is the latest attempt by this administration to punish asylum seekers for seeking refuge in the United States by locking them up in immigration prisons. But the Constitution does not allow the government to incarcerate asylum seekers without basic due process. We'll see the administration in court.
The attorney general is empowered to set new precedents and overturn the rulings of immigration judges—in this case, a decision from one judge to let an immigrant out on bond while he awaited his day in court. NBC reports that Barr reversed that ruling, writing, "He also said that the Board of Immigration Appeals, a panel that reviews immigration court decisions, 'wrongly decided' that only immigrants who enter the U.S. through legal ports of entry should be detained while others could be released on bond."