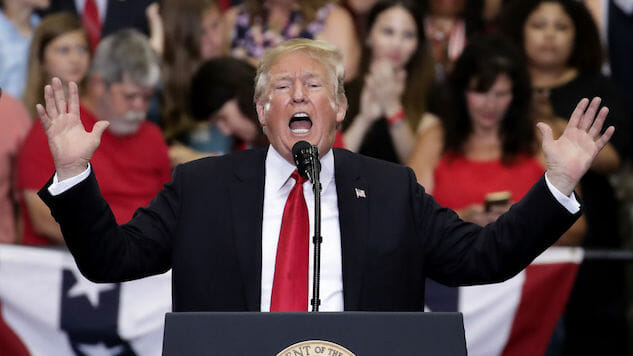 Fascism needs nothing as much as it needs an enemy, and Trump has found what he considers a good one in Ilhan Omar. Wednesday night, at a rally in Greenville, NC, he spent two minutes railing on the freshman Congresswoman, and in the midst of his litany, the crowd began chanting "send her back!" in a reference to Trump's tweet suggesting that Omar and others should leave America. Watch the incident below:
Here's full clip of Trump attacking Omar & ensuing "send her back!" chants. Couple things to note:

1) The hypnotic way Trump puts words in her mouth to make it seem like she's an al-Qaeda supporter
2) The jingoistic grunts emanating from crowd, reminiscent of an Idiocracy scene pic.twitter.com/b8CEsgv4Uo

— Aaron Rupar (@atrupar) July 18, 2019
We probably don't need to tell you that almost everything Trump said is either flatly untrue or blown completely out of context. Just as her legitimate criticisms of Israel and AIPAC do not make her anti-Semitic, and just as the accusation that she was using "tropes" was totally cynical and misguided, so the idea that she "praised al-Qaeda" is a gross distortion. As Jake Weindling wrote back in April, these incidents of utter propaganda are actually putting Omar's life in danger.
Now, it's gotten worse. Trump's words are antagonistic and provocative in all the worst ways, and the fact that everything he said about Omar is bunk won't matter to his supporters. And as we've seen, the fringe element of those supporters have violent tendencies. It's not a huge jump to say that calling someone like Omar "anti-American" and getting a crowd to chant "send her back!" has the very real potential to spark violent acts from extreme Trump supporters. Omar has been facing death threats for a long time now, and you can bet those are going to get worse.
These tactics go deeper than mere dog whistles—Trump is practically siccing his supporters on Omar. Mere harassment is, sadly, the least terrifying of all possible outcomes.