Kirsten Gillibrand Is the First Senator to Say "Abolish ICE"
Photo by Astrid Stawiarz/Getty
Politics
News
ICE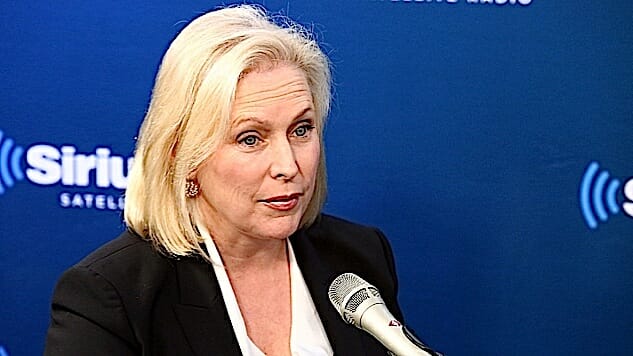 When put on the spot by Jake Tapper as to whether ICE should be abolished—a hot topic, and a key component of Alexandria Ocasio-Cortez's platform during her surprise victory in New York—even Bernie Sanders wouldn't fully commit (6:10 mark):
That was a bit surprising, considering that the U.S. Immigration Customs and Enforcement has only existed since the early 2000s, and the calls for its abolition in the wake of the child/parent separation policy at the U.S. border have been resounding among the progressive left.
#WomenDisobey: Chanting ABOLISH ICE at the DOJ building, a demand I'm hearing more and more – cc: @SeanMcElweepic.twitter.com/T6U9nRw6EM

— Alejandro Alvarez (@aletweetsnews) June 28, 2018
Also surprising? The first senator to endorse the message is Kirsten Gillibrand, junior senator from New York and likely 2020 presidential candidate.
Democrat @SenGillibrand: "I believe you should get rid of [ICE], start over, reimagine it, and build something that actually works #CuomoPrimeTimehttps://t.co/3SwLWVK0Fapic.twitter.com/HnpFj19w0z

— Cuomo Prime Time (@CuomoPrimeTime) June 29, 2018
"I believe that it has become a deportation force," she told Chris Cuomo last night, and plainly stated her agreement with Ocasio-Cortez that the agency needed to be abolished. She went on to say it should be "re-imagined," so technically there's a bit of a caveat there, but that's splitting hairs.
As Vice notes, her endorsement follows the activity of several House Democrats:
The movement started gaining traction on the Hill on Monday, when Wisconsin Representative Marc Pocan introduced legislation to abolish ICE. Pocan said at least two other members of the House—Arizona Representative Raul Grijalva and Massachusetts Representative Mike Capuano—have said they would support the bill.
Additionally, 575 protesters were arrested for protesting Trump's immigration policies outside the Hart Senate Building on Thursday.
Along with staking a position to the left of her fellow senators, Gillibrand also called for the abolition of ICE before the rest of her rumored competitors in the 2020 election, including Sanders and Kamala Harris. When Chris Hayes asked Harris whether ICE should exist back in March, she responded, "well, certainly."