DHS Agents Carry Out Scare Tactic, Interrupting CBS Interview with ICE Whistleblower
Photo by John Moore/Getty
Politics
News
ICE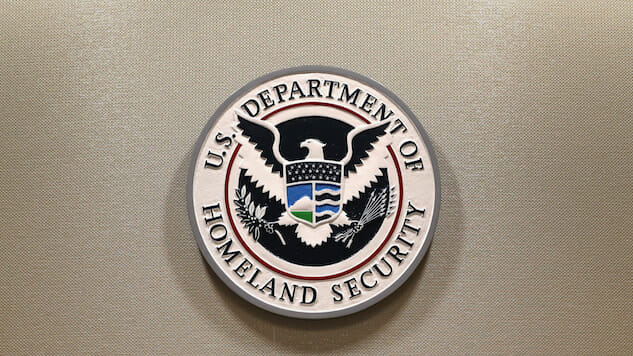 Former Immigration and Customs Enforcement spokesperson James Schwab revealed to CBS News that ICE asked him to lie to the public. During the interview, Department of Homeland Security agents showed up at Schwab's house in what can only be described as an intimidation tactic.
The agents refused to speak to CBS journalist Jamie Yuccas. Schwab said, "They just said that they wanted to talk to me about the leak with the Oakland mayor." The strange part is, Schwab was in the middle of telling Yuccas about his experience concerning ICE spreading lies about the Oakland mayor when the agents arrived.
Schwab previously worked as the ICE spokesperson for the Obama administration and now the Trump administration. He admits both administrations asked him to "spin" information, but says he had never been asked to lie before—that is, until the Oakland incident. In February, federal agents and ICE carried out a series of raids in the San Francisco Bay area. However, the day before the raids, the Oakland Mayor Libby Schaaf gave a speech to publicly warn the community about the upcoming raids. Schwab confirmed that this speech ultimately put the officers' lives in danger.
Despite the speech, Schwab said, "We ended up arresting 232, which is 16 percent higher than our highest estimates. So internally, that was considered a success." He was in charge of communicating what happened in the raids to the public, as well as spinning the information to make Schaaf look bad. However, Schwab didn't agree with the statement that the administration wanted him to relay: "She let people go." So he went against their request that he lie to the public and instead spun the statement to read, "Some of them were able to elude us thanks to the mayor's irresponsible decision." He was comfortable with releasing this statement because of the words "some of." Schwab said, "This is a spin statement. This is what every public affairs officer does."
A week later, Attorney General Jeff Sessions stated, "ICE failed to make 800 arrests" because of the mayor's speech. Schwab says this was a lie, calling Sessions statements' "completely false … that made me extremely uncomfortable." His superiors in Washington told him to keep using the statement he had drafted but not to dispute Session's statement. He waited for Sessions to correct his statements but the correction never came. "After they failed to correct it—it's a flat-out lie," Schwab said. "They know it's a lie. It was just shocking to me that no one wanted to fix that." He resigned shortly after the incident, explaining his decision as follows:
I could not fathom staying at an organization that was OK with lying to the American public. I hate that. In 17 years in the military, at the Department of Defense as a civilian, at NASA, and now at Homeland Security, I have never been asked to lie. I have never been asked to perpetuate a lie, which is the same as lying.
Following this statement, two DHS agents showed up at Schwab's door and asked to speak with him about the incident with the Oakland mayor. The agents left when Yuccas began questioning them, but they asked Schwab to call them. Visibly shaken, Schwab returned to the interview, where the topic shifted to the surprise visit from the agents. He denied ever contacting the Oakland mayor's office and said the agents were "absolutely" using an intimidation technique. He said, "Why, three months later, are we doing this? This is intimidation. And this is why people won't come out and speak against the government." He went on to confirm that he knew of multiple other government employees in Trump administration agencies who are too scared to speak out about the the lies they have seen or been asked to perpetuate. He said:
That's one of the most important reasons that I'm doing this is that—so that people hear that someone else stood up, that someone else said, "No." And was concerned with it … to actually prepare and stand out in front of the public and perpetuate something that you know is absolutely false is not okay. And no special agent from the Department of Homeland Security is gonna stop me from saying that.
Schwab's interview and call to action from other government agencies is a blow to the Republicans ahead of the upcoming midterm elections. This new information only adds to the backlash ICE has faced recently because of Trump's zero-tolerance policy that has separated thousands of migrant children from their parents at the southern border. Protests against ICE are taking place all over the country in cities including New York City, Portland, Ore. and Washington, D.C.