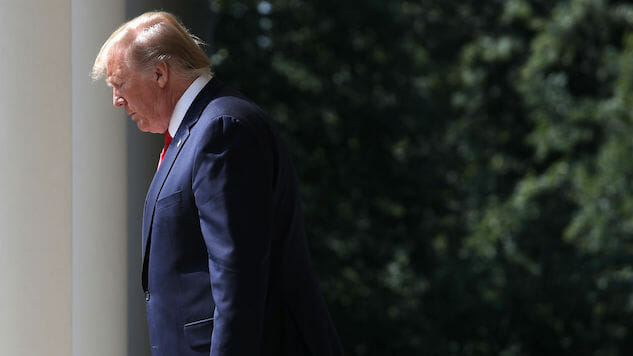 105 members of Congress now stand in support of opening an impeachment inquiry into President Donald Trump. The new arrivals include four House Democrats from Washington following a lawsuit that was filed this past Friday by the House Judiciary Committee. The lawsuit involves the unsealing of grand jury evidence from the Mueller investigation; documents that would be needed to impeach the sitting President.
While many assumed that nothing would come of last week's Mueller testimony (a seemingly uneventful hearing), a flurry of Democratic House members announced their support for Trump's impeachment just yesterday, July 28.
The four Washington-based House Democrats publicly tweeted out their support for opening an impeachment inquiry, as Rolling Stone points out:
The people of #WA08 elected me to protect their health care & our environment. Those will always remain my focus while I have the privilege of serving them in Congress. They also elected me uphold the Constitution. So, I am formally calling for an impeachment inquiry. pic.twitter.com/JqDlwJDcLO

— Rep. Kim Schrier (@RepKimSchrier) July 28, 2019
The incidents of obstruction of justice cited in the Mueller report are too serious to be dismissed based on politics, party biases, or the fear of a predicted outcome. I support the House of Representatives beginning an impeachment inquiry into President Trump. Full statement: pic.twitter.com/BOUpf4bbNs

— Rep. Derek Kilmer (@RepDerekKilmer) July 28, 2019
My full statement on why I believe it is time for the House to begin an impeachment inquiry against the President. https://t.co/WHXdmoSpBz

— Rep. Suzan DelBene (@RepDelBene) July 28, 2019
After considerable reflection and prayerful consideration, I have decided to support a formal impeachment inquiry. My statement: https://t.co/qaL12lZ3V6

— Denny Heck (@RepDennyHeck) July 28, 2019
House Judiciary Committee Chairman Jerry Nadler appeared on ABC News to speak on the possibility of an impeachment inquiry, as well:
Judiciary Committee Chairman Jerry Nadler: "We have impeachment resolutions before the committee. We are conducting investigations to determine whether we should report those … to the House or whether we should draft our own and report them to the House" https://t.co/lo2HID3X1Epic.twitter.com/kC6JoKlOsk

— ABC News Politics (@ABCPolitics) July 28, 2019
While multiple House Democrats still won't budge on support of an impeachment inquiry, most notably House Speaker Nancy Pelosi, we are finally seeing the tides turn as a result of Trump's racism, immigration policies, election interference and too many other transgressions to list at this point.