Trump Again Endorses Arming Teachers While Backing Off Higher Age Limits For Gun Sales
Photo by Chip Somodevilla/Getty
Politics
News
Gun Control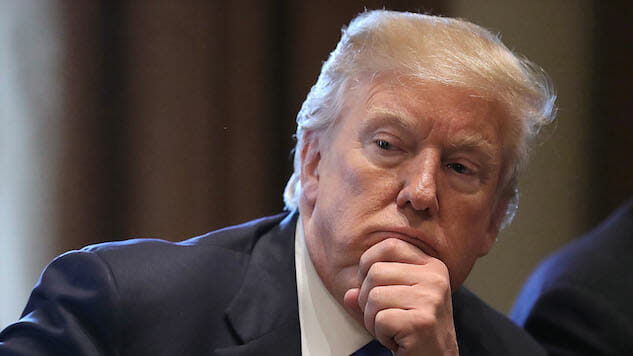 Nearly a month after the deadly school shooting in Parkland, Fla., President Trump responded with his first formal policy. On Sunday, the president announced the establishment of a federal commission to explore school safety and endorsed legislation that would improve background checks. He also urged states to pass laws that would allow the temporary seizure of firearms from people deemed to be dangerous to themselves or others. The Florida state government just adopted a similar rule in its new gun legislation.
Unlike Florida, however, the president, falling in line with the NRA despite claiming he isn't beholden to them, has rolled back his support of a federal increase in the minimum age required to legally buy a firearm. The state voted to raise the minimum age for legal purchase of long guns from 18 to 21, a move that was swiftly met with a lawsuit from the NRA.
Sunday's announcement also included continued support for arming teachers and other school personnel on a volunteer basis, another controversial stance supported by the NRA.
Outside of support for a bill that would improve the database used to conduct background checks on gun purchases, much of the White House's policy shifts the responsibility of legislative development onto individual states, as opposed to the federal government. The president chose not to endorse another bill introduced in the Senate that would extend background checks to gun purchases made online and at gun shows.
The proposed federal commission will be chaired by heavily criticized Secretary of Education Betsy DeVos, whom Sen. Elizabeth Warren called the "worst secretary of education this country has ever seen." DeVos had trouble answering simple questions regarding her department in an interview with Leslie Stahl that aired on Sunday's edition of 60 Minutes, and was ridiculed by the students of Marjory Stoneman Douglas High School during a short visit to the school last week. According to NPR, DeVos praised the students for not staying silent after the tragedy in a conference call: "I have to give credit to the students in their courage and consistent call for action."
One day before the federal commission was announced, the president seemingly mocked the idea of them during a campaign rally in Pennsylvania. "We can't just keep setting up blue ribbon committees with your wife and your wife and your husband, and they meet and they have a meal and they talk," said Trump.
The newly established commission has no timetable for introducing new policy suggestions.