Ex-Supreme Court Justice Says the Second Amendment Should be Repealed
Photo by William Thomas Cain/Getty
Politics
News
Gun Control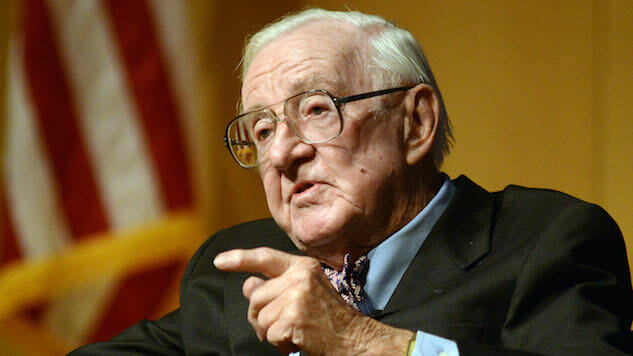 Ex-Supreme Court justice John Paul Stevens wrote an op-ed for the New York Times on Tuesday, arguing that the second amendment should be repealed.
Stevens was nominated to the Supreme Court by former president Gerald Ford in the '70s and he retired in 2010, making him one of the longest-serving justices in U.S. history. Stevens cited the March For Our Lives protest and growing calls for gun control in the wake of the school shooting in Parkland, Fla. earlier this year.
The basis of his argument was that the current pro-gun interpretation of the second amendment is far removed from its original intent. David Hogg, one of the Stoneman Douglas High School students who rose into the public eye after Florida's school shooting, also agrees with Stevens' premise. Hogg shared a tweet from fellow Stoneman Douglas student Matt Deitsch, which echoes the essence of what Stevens was getting at in regards to the phrase "well-regulated militia."
— David Hogg (@davidhogg111) March 23, 2018
Stevens wrote that the nationwide calls for gun regulation indicate "broad public support for legislation to minimize the risk of mass killings of schoolchildren and others in our society." The former justice continued, "That support is a clear sign to lawmakers to enact legislation prohibiting civilian ownership of semiautomatic weapons, increasing the minimum age to buy a gun from 18 to 21 years old, and establishing more comprehensive background checks on all purchasers of firearms."
However, Stevens noted that small or moderate changes to the current gun laws, whether on a local, state or federal level, would not be enough. Stevens argues that the heart of the problem lies in the Constitution via the second amendment. He wrote, "But the demonstrators should seek more effective and more lasting reform. They should demand a repeal of the Second Amendment."
Stevens specifically pointed to a problematic Supreme Court decision back in 2008, which the National Rifle Association has since weaponized: the District of Columbia v. Heller decision that upheld that the second amendment protects an individual's right to bear arms, even for those not affiliated with a militia. In fact, he called the decision a "propaganda weapon of immense power" for the NRA.
In response to the piece, Stoneman Douglas student Cameron Kasky tweeted that Stevens made some intriguing points in his op-ed. However, Kasky said that repealing the second amendment is ultimately not the end goal of the gun-regulation movement spearheaded by students who organized nationwide school walkouts and the March For Our Lives protests.
https://t.co/JcFNFTA6VD Not what we're going for here, but very interesting considering who wrote it. Feel free to give it a read. I don't feel the same way, but it's an interesting point of view.

— Cameron Kasky (@cameron_kasky) March 27, 2018