Graham-Cassidy Is "Not the Answer": Sen. Collins to Vote No on GOP Healthcare Bill
Photo by Alex Wong/Getty
Politics
News
Graham-Cassidy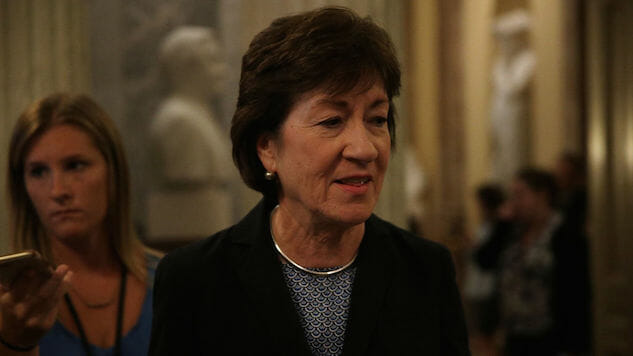 In a move that will likely scuttle the Republicans' latest attempt to take healthcare away from millions of people, Senator Susan Collins announced she will vote no on Graham-Cassidy Monday afternoon.
Specifically citing the bill's cuts to Medicaid and lack of protections for people with pre-existing conditions, Collins is one of three public "no" votes thus far. From CNN:
"Sweeping reforms to our health care system and to Medicaid can't be done well in a compressed time frame, especially when the actual bill is a moving target," Collins said. The bill would also "open the door for states to weaken protections for people with pre-existing conditions, such as asthma, cancer, heart disease, arthritis and diabetes."
Collins was one of the three Republicans who voted against the previous Republican attempts to repeal the Affordable Care Act, alongside John McCain and Lisa Murkowski. This time, she joins McCain and Rand Paul as the only "no" votes. This is despite deliberate attempts by the architects of the bill, Senators Lindsey Graham and Bill Cassidy, to give extra funding to Collins' home state of Maine to bribe her into a "yes"—not to mention phone calls from both President Trump and Vice President Pence to get her to change her mind. Collins paid more attention to the bill's CBO score, which stated it would reduce the national deficit, but only at the cost of millions of people losing their healthcare.
While the bill may be dead in the water, this does not mean it's time to stop calling your representatives, especially if you live in a state with a senator voting yes for this reprehensible bill.
See Collins' full statement on her no vote below.
Senator Collins opposes Graham-Cassidy health care bills https://t.co/nW6MFUvYVgpic.twitter.com/0DSxDJNMPp

— Sen. Susan Collins (@SenatorCollins) September 25, 2017