Trump Does Bare Minimum, Signs Bill Guaranteeing Federal Employee Back Pay—Once the Shutdown Ends
Photo by Win McNamee/Getty
Politics
News
Government Shutdown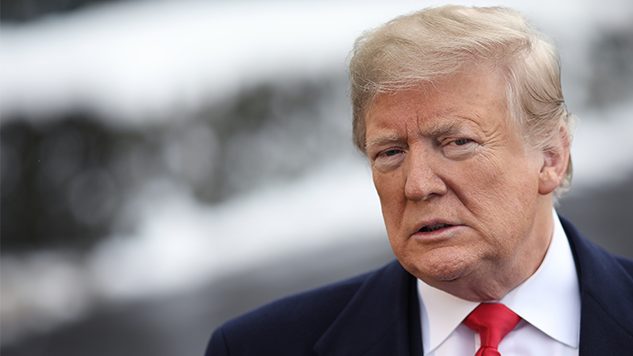 President Trump signed the Government Employee Fair Treatment Act of 2019 on Wednesday, which guarantees that federal workers will receive back pay after the partial government shutdown ends, CNN reports. The bill is sponsored by Sen. Ben Cardin (D-Maryland).
According to CNN, the White House said that the bill "requires the compensation of government employees for wages lost, work performed, or leave used during a lapse in appropriations that begins on or after Dec. 22, 2018, and entitles excepted employees to use leave during a lapse in appropriations."
However, these federal employees will not receive their back pay until the shutdown (now on its 27th day) ends. These workers have plenty of pressing costs—from mortgage payments to groceries, to any number of necessities—that they need covered in the meantime. And, as Paste's Jacob Weindling noted, the partial shutdown disproportionately affects the poor.
Cardin voiced his own concerns on Twitter:
In 1 hour, @POTUS will sign my bill guaranteeing back pay for federal workers into law.

This is an important step toward providing our civil servants with some stability and hope. But it doesn't help pay the bills now. To do that, we MUST reopen the government. #EndTheShutdown

— Senator Ben Cardin (@SenatorCardin) January 16, 2019
Glad that my bill guaranteeing back pay for federal workers was signed into law today.

But the promise of back pay will not cover the cost of rent or groceries today. It won't make a car payment or cover prescriptions. A few of many reasons why it's past time to #EndTheShutdownpic.twitter.com/Cx0LpygRAf

— Senator Ben Cardin (@SenatorCardin) January 16, 2019
Trump also met with the bipartisan Congress group the Problem Solvers Caucus (anyone else picture Jenna and Tracy on 30 Rock?) earlier on Wednesday. The meeting centered on negotiating an end to the seemingly never-ending shutdown. White House press secretary Sarah Huckabee Sanders claimed that those who attended "listened to one another and now both have a good understanding of what the other wants"—as if no one realized before that Trump and his cronies want a xenophobic wall. While Sanders called the meeting "constructive," CNN says a member at the White House meeting stated that they did not appear any closer to a deal.