Glenn Kessler, World's Worst Fact Checker, Misrepresents Yet Another Bernie Sanders Quote
Photo by Andrew Burton/Getty
Politics
News
Glenn Kessler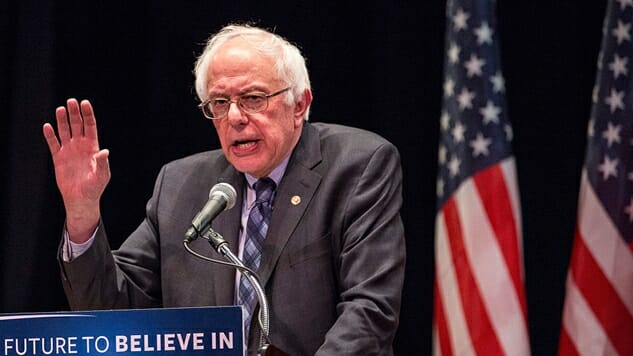 Glenn Kessler doesn't understand plurals. In his latest fact-checking column for the Washington Post, he deemed that Bernie Sanders' recent reference to 8 million people as "millions" was misleading.
It takes a true MVP lying hack to say that calling 8 million people "millions" is misleading. pic.twitter.com/llTBiS3FNh

— Peter Gowan (@peterjgowan) June 26, 2019
Kessler took issue with Sanders' recent statement that "millions of Americans are forced to work two or three jobs just to survive." To Kessler's eyes, 8 million is only 5% of the population, making the fact misleading. He reveals just how much of a scab he is, arguing that since the other 95% aren't working multiple jobs, we should effectively disregard the situation that these 8 million people find themselves in. There's also the fact that in Kessler's head, "working two to three jobs" doesn't count if some of the jobs are part-time…a belief that is just too stupid to entertain here.
This is not the first time that we've written about Glenn Kessler acting like a hack. He regularly takes issue with Democratic candidates stances on the abysmally low wages many work for, like this time he entirely misrepresented Alexandria Ocasio-Cortez's numbers. Another time, he flubbed Kamala Harris's tax plan with a fact he himself had corrected on somebody else before, and yet another time, he completely misunderstood Sanders' Wall Street bailout quote.
The pattern amounts to Kessler positioning himself as a passionate defender of the rich, issuing ill-advised and inaccurate semantic arguments to supposedly "check facts." His column is an embarrassment, and we'll certainly be covering it again soon enough.