Jimmy Carter to Georgia Secretary of State and Gubernatorial Candidate Brian Kemp: "Resign"
Photo courtesy of Getty
Politics
News
Georgia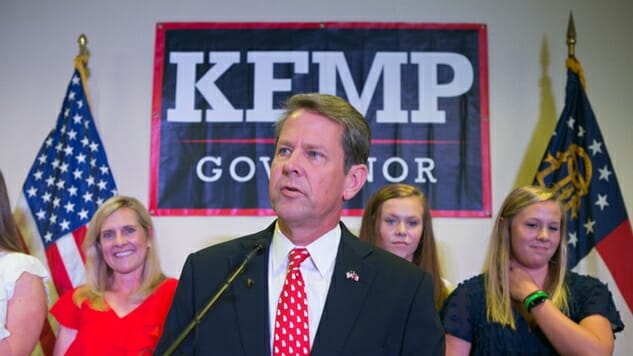 It would be one thing for Jimmy Carter, former president and Georgia icon, to endorse Stacey Abrams in her bid to become the state's next governor. But Carter went the extra step: He asked Brian Kemp, her opponent, to actually resign his current position as secretary of state. The letter was sent on Oct. 22, and obtained by the AP on Monday. Read the full text here:
I have officially observed scores of doubtful elections in many countries, and one of the key requirements for a fair and trusted process is that there be nonbiased supervision of the electoral process.
In Georgia's upcoming gubernatorial election, popular confidence is threatened not only by the undeniable racial discrimination of the past and the serious questions that the federal courts have raised about the security of Georgia's voting machines, but also because you are now overseeing the election in which you are a candidate. This runs counter to the most fundamental principle of democratic elections — that the electoral process be managed by an independent and impartial election authority. Other secretaries of state have stepped down while running for election within their jurisdiction, to ensure that officials without a direct stake in the process can take charge and eliminate concerns about a conflict of interest.
In order to foster voter confidence in the upcoming election, which will be especially important if the race ends up very close, I urge you to step aside and hand over to a neutral authority the responsibility of overseeing the governor's election. This would not address every concern, but it would be a sign that you recognize the importance of this key democratic principle and want to ensure the confidence of our citizens in the outcome.
As Carter referenced, Kemp has come under fire for potentially disenfranchising thousands of voters in the current election—a number that would represent up to two percent of the votes cast in the state in the 2014 governor's race, and which could easily make the difference in an extremely tight race this year—by virtue of an "exact match" process that disproportionately affects black voters:
According to records obtained from Kemp's office through a public records request, Appling-Nunez's application — like many of the 53,000 registrations on hold with Kemp's office — was flagged because it ran afoul of the state's "exact match" verification process…an analysis of the records obtained by The Associated Press reveals racial disparity in the process. Georgia's population is approximately 32 percent black, according to the U.S. Census, but the list of voter registrations on hold with Kemp's office is nearly 70 percent black.
Since then, the state NAACP has filed a complaint alleging that votes for Stacey Abrams are being changed to votes for Brian Kemp, which seems to be a trend this year—the same thing is happening in Texas. Here's what one voter experienced in Georgia:
Grimes said she went to a polling site in Bartow County Thursday and tried to select Abrams, but the machine marked the box for Kemp. Grimes said she tried several times to clear the selection before it allowed her to vote for Abrams.
"I was not going to leave until everything was the way I wanted it,'' recalled Grimes, adding she also paid close attention to other selections. "If I had not been focused, my vote would have went for him."
The upshot of all of this is that if the Kemp-Abrams election comes down to the wire, and questions of voter fraud or balky machines or suppression or anything determine the outcome, guess who will be in charge of investigation? Secretary of State Brian Kemp!
Carter's request is infinitely reasonable, and will no doubt be ignored.