Supreme Court Strikes down Anti-Gambling Law—Sports Betting Could Soon Be Legal in All 50 States
Photo by Ethan Miller/Getty
Politics
News
Gambling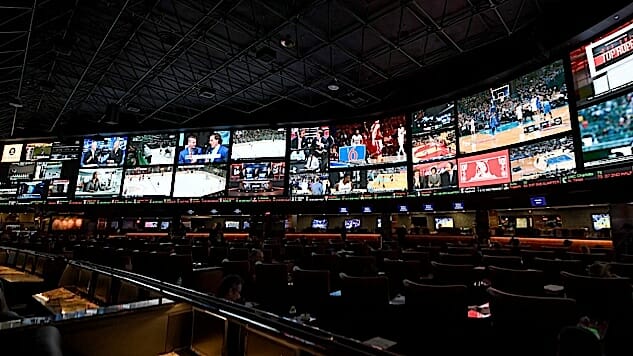 Today we issue a huge congratulations to anyone who has ever been forced to convert U.S. dollars into bitcoin, figure out how to send it to some website with a Latvian web address that is actually located on some island called "French Curacao" in the Caribbean, and then pray that it will be possible to withdraw your money without being arrested. Smile, friends—your favorite vice is no longer "illegal"!
Monday morning, the Supreme Court of these great United States of America struck down the 1992 Professional and Amateur Sports Protection Act. Per the AP:
The 1992 law barred state-authorized sports gambling with some exceptions. It made Nevada the only state where a person could wager on the results of a single game.
You can thank New Jersey for bringing the case up to the highest levels. Murphy v. National Collegiate Athletic Association was, at heart, a case about states' rights, and whether the federal government could legally bar each state from sports betting. In a 7-2 decision, with the majority decision written by Justice Samuel Alito, the Court rules that the PASPA did indeed "commandeer" power from the states, essentially forcing them to act in ways they otherwise would not, and that the constitution did not grant the federal government this level of power. Ruth Bader Ginsburg and Sonia Sotomayor dissented.
Former governor Chris Christie was a major force behind the case, and he pushed the battle in order to help his state's casinos and racetracks.
Some analysts estimate that 32 different states will have sports betting operations up and running within five years. Further, this case could set a major precedent for marijuana policy in the United States, where a similar federal v. state dynamic persists.