Sarah Huckabee Sanders Insults Journalists, Refuses to Answer Questions About Trump's Sexual Harassment Allegations
Photo by Win McNamee/Getty
Politics
News
Fake News!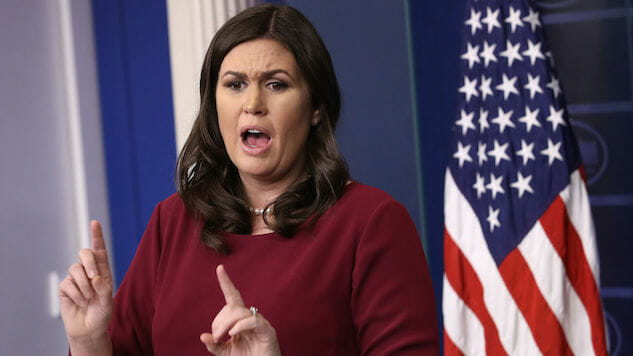 Sarah Huckabee Sanders, the gormless Sean Spicer 2.0, has had it with all the lies.
We're not talking about the lies her employer, the president of the United States, constantly spouts both online and in real life. No. That's fine with her. She's had it with "fake news" from the mainstream media.
Citing things like CNN's mishandling of a Wikileaks email and Dave Weigel tweeting a misleading photo, Sanders said that the media has moved beyond "honest mistakes" in their reporting and are now obfuscating facts intentionally and maliciously, The Hill reports. The confrontation bloomed after a pointed comment from Sanders: "You cannot say it's an honest mistake when you're purposely putting out information you know is false." She said journalists were "misleading the American people" due to their biases against President Donald Trump.
Understandably, CNN's Jim Acosta and Playboy's Brian Karem took issue with these statements. Acosta said that honest mistakes doesn't mean a media outlet is "fake news." Sanders said journalists then had to own up to their mistakes. Acosta snapped, "We do." Sanders then tried to move on from the discussion, but reporters weren't going to let it go, asking her repeatedly about the multiple women accusing Trump of sexual harassment (on which the official White House position is that they are all liars).
Sanders' obliviousness continued as she continued to cite examples of journalistic mistakes that outlets had already corrected or apologized for. Weigel deleted his tweet and apologized, and CNN corrected their error. Of course, that's not enough for Trump, who has a vendetta against both CNN and The Washington Post. Thus, it's not enough for Sanders, who seemed to disregard the fact that apologies had already been made in every case she brought up. She also attempted to shrug off reporters' insinuations that Trump has, in fact, been known to lie from time to time.
The exchange is just the latest salvo in the ever-expanding feud between the White House and the media. The Trump administration has a particular dislike for CNN, MSNBC and newspapers like WaPo and The New York Times, as those are the ones with the most active, factual reporting. Active, factual reporting is, to Trump's mind, fake news, since active, factual reporting tends to paint him in a negative light. So a chance to actually blast them for the odd mistake is too good an opportunity to pass up.