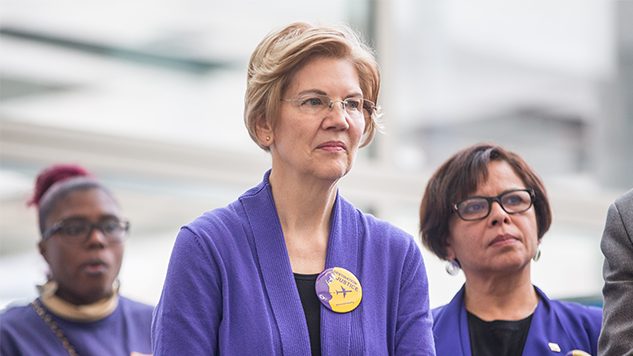 Elizabeth Warren appears to have given up on Medicare for All—at least as a talking point. At Tuesday's Democratic presidential debate in Iowa, the last before the caucuses, the 2020 hopeful did not utter the phrase a single time while discussing her health care proposal. Instead she talked about defending the Affordable Care Act and downplayed the differences between the candidates' plans.
"I'll use the power that's already given to the president to reduce the cost of insulin and EpiPens and HIV-AIDS drugs," Warren said. "Let's get some relief to those families. And I will defend the Affordable Care Act. I've got a plan to expand health care, but let's keep in mind, when we come to a general election, we Democrats may argue among each other about the best way to do health care, but we're going to be up against a Republican incumbent who has cut health care for millions of people and is still trying to do that."
Warren did appear to approach the subject, but studiously refrained from using the phrase itself. "Yes, we build on the Affordable Care Act," she said. "But where we end up is we offer healthcare to all of our people, and we can offer it at no cost or low cost to all of them." Later, she added, "Yes, we build on the Affordable Care Act, but where we end up is we offer health care to all of our people. And we can offer it at no cost or low cost to all of them."
Interestingly, when it came to speaking about her childcare policy, she had no problem referring to "universal childcare for everyone," a marked contrast to her cautious language on health care.
Health care has perhaps been the defining issue of the 2020 Democratic presidential primary, but Warren's commitment to Medicare for Alll has been a sort of open question throughout. Sitting in third place nationally, Warren has won prominent endorsements based on her pledged support for the plan, including that of dying Medicare For All activist Ady Barkan. Still, the New York Times recently noted that Warren has lately been avoiding mentioning the proposal in appearances with voters.
Even early on, despite having co-sponsored Sanders' Medicare for All bill in 2017, the Massachusetts Senator had a tendency to equivocate when asked what her plan would ultimately look like. At a Jackson, Mississippi, town hall in March, she suggested that she would be open to multiple pathways to universal health care. Asked if she would eliminate private insurance as the Sanders plan would effectively do, Warren replied that she would "get everybody together and that's what it is we'll decide." She went on to acknowledge that "there could be" a role for private insurance.
Three months later, at the June Democratic presidential debate, Warren raised her hand when moderators asked who on the stage would eliminate private insurance.
"Look at the business model of an insurance company," the 2020 hopeful said. "It's to bring in as many dollars as they can in premiums and to pay out as few dollars as possible for your health care. That leaves families with rising premiums, rising co-pays and fighting with insurance companies to try to get the health care that their doctors say that they and their children need. Medicare for All solves that problem."
For the next two months, that was Warren's position. In the July and August debates, the Massachusetts Senator teamed up with her rival from Vermont to defend Medicare-for-all against attacks from their more centrist opposition. At the July debate, Warren famously hit back at John Delaney, asking him, "Why would anyone go through all the trouble of running for president just to get up on stage and talk about what's not possible?"
Although her plan had not been fully fleshed out, Warren's poll numbers were steadily rising. So it wasn't long before she was facing mounting pressure to provide details—particularly on how she would pay for it. Asked whether or not middle class taxes would increase under her plan at the September debate, Warren would not directly answer, focusing instead on costs.
"We pay for it, those at the very top, the richest individuals and the biggest corporations, are going to pay more," Warren told moderator George Stephanopoulos. "And middle class families are going to pay less. That's how this is going to work."
A direct follow-up did not yield a more direct answer and later in the week, rival Pete Buttigieg, the millennial mayor of South Bend, Indiana, whose own plan is a public option he calls "Medicare for All who want it" seized on the opportunity, describing Warren as "extremely evasive."
At the following debate in October, Warren and Buttigieg clashed when she again declined to directly say whether or not her plan would raise taxes on the middle class.
"I will not sign a bill into law that does not lower costs for middle-class families," Warren said.
When it was his turn to respond, Buttigieg said, "We heard it tonight: A yes-or-no question that didn't get a yes-or-no answer. Look, this is why people here in the Midwest are so frustrated with Washington in general and Capitol Hill in particular. Your signature, senator, is to have a plan for everything—except this."
Following the debate, Warren announced that she would be releasing a new funding plan for Medicare-for-all. That plan came out on Nov. 1. Some panned it as regressive over its inclusion of an employer-side head tax. But others marveled at how it contained no explicit taxes on the middle class. Weeks later, Warren introduced a Medicare for all "transition" plan, which amounted to a public option and promise of pursuing additional legislation within three years of taking office. The senator's apparent backtracking saw her poll numbers take a nosedive.
In September, Vox writer Dylan Scott described Warren as a "Rorschach test for Democrats on health care." That description holds just as true today as it did then. Skeptics cite her inconsistencies as evidence that she is not a true supporter of Medicare-for-all. Meanwhile, Warren's backers insist her support is unwavering.
"[Warren] is all in for #MedicareForAll," tweeted the official Progressive Change Campaign Committee account during the debate.