Florida Governor Says He's "Not Allowed to Name" Two Counties FBI Says Were Hacked by Russians
Photo by Joe Raedle/Getty
Politics
News
Election Hacking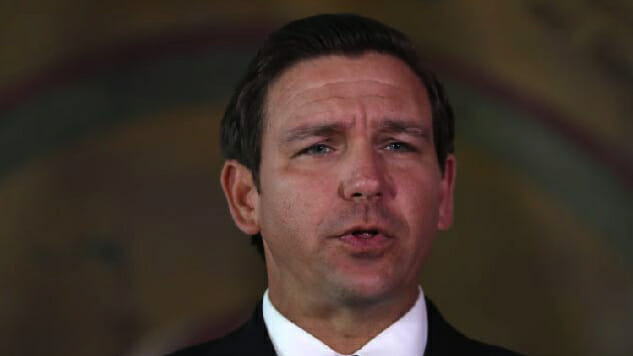 Florida Governor Ron DeSantis met with the FBI and U.S. Department of Homeland Security in Tallahassee last Friday to discuss the possibility that election information for at least one Florida county was accessed by Russian hackers in 2016. After the FBI revealed Russians had hacked two counties, DeSantis says they required him to keep the information secret.
DeSantis told reporters at a Tuesday press conference that Russian hackers accessed election information in two counties, but that he could not share which counties were affected due to a nondisclosure agreement. The claim is an unusual one, as the federal government rarely asks state governors to sign nondisclosure agreements.
While hackers accessed election information in these counties, DeSantis said nothing was changed and the breach should not have altered 2016 voting results. It is also likely they accessed voter information that was already public record, he noted.
Last month, the Miami Herald reported that DeSantis had expressed frustration that the FBI revealed the successful hacking attempt in Robert Mueller's report on Russian interference in the 2016 U.S. election before communicating with his office and letting him know which of his state's counties were affected.
DeSantis said the breach was likely the result of a spear-phishing email. The Mueller report also revealed that Russian operatives sent spear-phishing emails to 120 email accounts of Florida county officials administering the 2016 U.S. election. These emails, the report explains, included a Word document with malware that infects computers once the file is opened.
Florida congressional Democrats will have their own meeting with the FBI on Thursday.