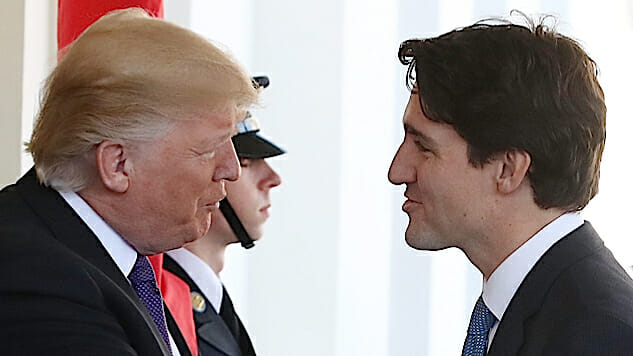 The scene: Buckingham Palace. Canada's Justin Trudeau, France's Emmanual Macron, and the UK's Boris Johnson—world leaders all—are gathered in a tight circle. The topic of conversation? Our fearless leader, Donald Trump. The context? A 53-minute press conference Trump held earlier that day. Per CNBC:
Trudeau, speaking with French President Emmanuel Macron, U.K. Prime Minister Boris Johnson and Dutch Prime Minister Mark Rutte, said that Trump "was late because he takes a 40-minute press conference off the top."
None of the politicians in the hot-mic video, which emerged on social media Tuesday evening, mentioned Trump by name. But it's widely speculated — and Trump's recent comments appear to confirm — that Trudeau and the other world leaders were discussing the U.S. president's 53-minute press conference with NATO Secretary Jens Stoltenberg.
Watch the video:
.@JustinTrudeau, @EmmanuelMacron, @BorisJohnson and other VIPs shared a few words at a Buckingham Palace reception Tuesday. No one mentions @realDonaldTrump by name, but they seem to be discussing his lengthy impromptu press conferences from earlier in the day. (Video: Host Pool) pic.twitter.com/dVgj48rpOP

— Power & Politics (@PnPCBC) December 3, 2019
Now, normally this wouldn't be a massive deal, but Trump's hyper-sensitivity means that any perceived insult, no matter how small, will inevitably blow up into a mini-feud. And indeed, things went south. The Independent:
"Well, he's two-faced," Mr Trump said of the Canadian prime minister when questioned on Wednesday afternoon, and suggested the unguarded comments were based in frustration at US demands that Canada contribute more to Nato.
Despite later calling Trudeau a "very nice guy," Trump then canceled his final press conference in what looked like a thinly disguised fit of pique:
….When today's meetings are over, I will be heading back to Washington. We won't be doing a press conference at the close of NATO because we did so many over the past two days. Safe travels to all!

— Donald J. Trump (@realDonaldTrump) December 4, 2019
I'm not saying we're about to go war with Canada, but isn't this how the movie Canadian Bacon started?