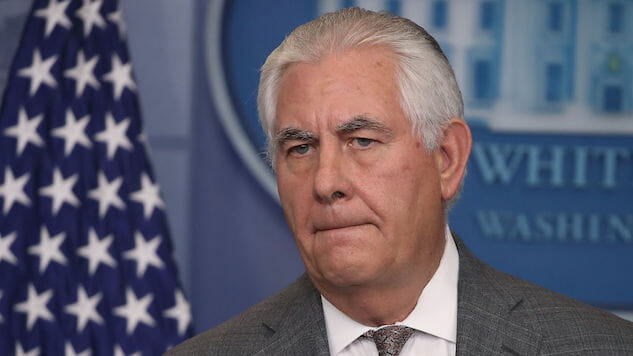 It's no secret that the relationship between Donald Trump and Rex Tillerson is strained. Having called the President of the United States a "moron" behind his back, Paste's official prediction was that he'd be fired over a month ago. We might have jumped the gun a bit, but now it looks like Tillerson is indeed on the way out.
The New York Times reports that White House Chief of Staff John F. Kelly has outlined a plan to remove Tillerson from his position of Secretary of State and replace him with Mike Pompeo, the current director of the CIA.
The plan is not set in stone, but it would be set in motion sometime early next year. It's unknown whether Trump himself has actually signed off on the plan, or whether this is simply Kelly floating the idea. Pompeo would be replaced as CIA director by Senator Tom Cotton of Arkansas.
From the NYT: "Mr. Tillerson's departure has been widely anticipated for months, but associates have said he was intent on finishing out the year to retain whatever dignity he could." A whole year working for the dumbest, least qualified, least truthful president of all time! Congrats, Mr. Tillerson. We bet the going-away party will be swell.