Trump Had a "Terrible" Call with the French President, aka His Only Foreign Friend
Photo by Drew Angerer/Getty
Politics
News
Donald Trump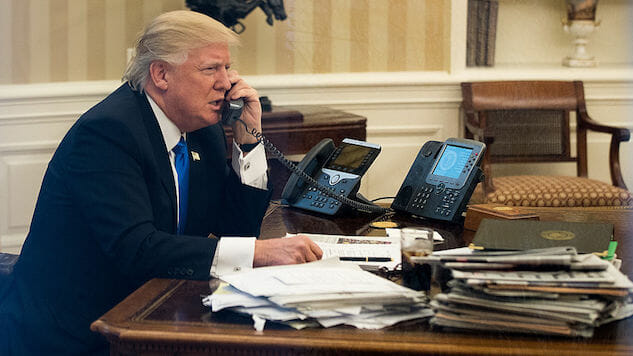 French President Emmanuel Macron reached out to Trump on Thursday to express his criticisms of new tariffs, resulting in a call that CNN sources described as "terrible." The call came shortly after the steel and aluminum tariffs were enacted against American allies Canada, Mexico and the European Union, fulfilling a campaign promise but threatening foreign relations.
The tariffs include a 25 percent penalty on steel and a 10 percent penalty on aluminum, both of which were implemented last Thursday. The backlash from American allies was instantaneous, as they all announced their plans to create tariffs against American products. For Trump supporters, this tariff fulfills the campaign promise to build American industry and tax foreign imports. However, he taxed American allies, who are pretty important if the summit doesn't go well with Kim Jong-Un on June 12.
The same day the tariffs were implemented, Macron released a statement from the Elysee Palace, and he wasn't pleased. The statement read:
"This decision is not only illegal, it is a mistake on many points. It is a mistake because it responds to a worldwide unbalance that exists in the worst ways through fragmentations and economic nationalism … If these kind of things impacted our relations, it would have been the case since day one because he has decided to leave the Paris (climate) agreement.
To this point, Macron has been Trump's closest ally in the European Union. One CNN source said of the pair's call, "Macron thought he would be able to speak his mind, based on the relationship. But Trump can't handle being criticized like that." A readout of the call at the White House revealed that Trump "underscored the need to rebalance trade with Europe."
In an interview with the BBC in January, Macron spoke to the close relationship he shared with Trump, saying, "I'm always extremely direct and frank. He is. Sometimes I manage to convince him, and sometimes I fail." This time, Macron failed and the fate of America's relationships with our allies lies in the hands of Trump, who cannot be reasoned with, even by his closest foreign companion.
Despite fulfilling campaign promises, Trump needs to keep in mind there are other people in the world that he has to work with. Fingers crossed the summit goes well, although history shows it won't, because America's allies aren't in the mood to run to our rescue after these tariffs. Trump will be receiving a similar call from the British Prime Minister, Theresa May, on Monday.