The Trump Campaign Organized an Anti-Impeachment Event in Utah. Then They Got Outnumbered.
Photo courtesy of Getty
Politics
Features
Donald Trump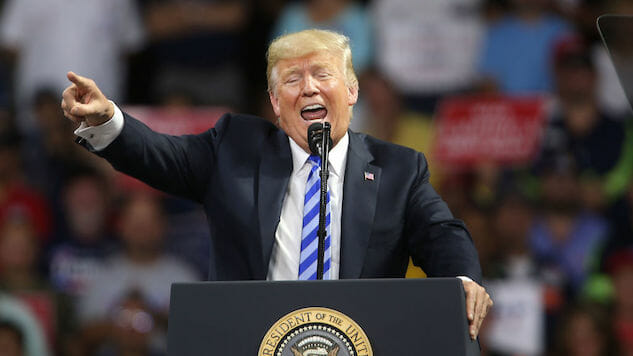 Here's a delightful story from West Jordan, UT, where an anti-impeachment event organized by the Trump campaign backfired when the people supporting the president were outnumbered by those who want him out of office. From KSL:
The event organized by President Donald Trump's reelection campaign was billed as part of a national "Stop the Madness" effort to defend the president against impeachment, but most of the Utahns who showed up supported the congressional inquiry now underway.
Anti-Trump protesters held signs and chanted in support of figures as diverse as House Democrat Ben McAdams and Republican Senator Mitt Romney (who has lately kinda-sorta re-discovered his spine).
The Trump supporters that did show up were split between the aggrieved, woe-is-me variety, and the George-Soros-is-the-devil conspiracy nuts. The former:
"Liberals are a little better at organizing, I can tell you that," Hardy said. "Part of it is we are just so used to being intimidated by the left that we're afraid to speak up. Anywhere. In Utah, even. I mean, I have a MAGA hat, but I don't dare wear it. I don't put a bumper sticker on my car because I'm afraid it will get keyed."
The latter:
As they repeated their chants, a handful of Trump supporters stood nearby, including a man wearing a red Make America Great Again cap and waving a small American flag who would only give his first name, Sam. He yelled to the group, "Go away. How much you getting paid?" and told a reporter, "People are filthy, they are evil."
In fact, the counter-protest was organized by a coalition of groups that included the CD4 Coalition (a Utah-based group in the fourth congressional district) and the DCCC. Evan McMullin also played a role through his group Stand Up Republic.
But overall, the fact that they were outnumbered even in Utah is another small sign that things are changing, and an affirmation of recent poll numbers that show a majority of Americans now want Trump thrown out of office.