Trump Has Already Stockpiled $33 Million of His Own Cash for 2020 Election
Photo by Chip Somodevilla/Getty
Politics
News
Donald Trump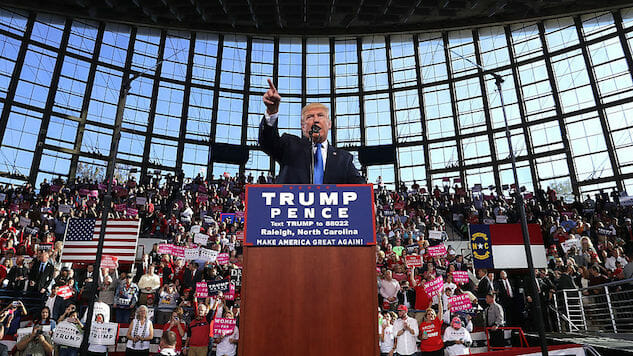 With the 2020 presidential election still more than two years away, Trump has reportedly already stockpiled $33 million of his own cash in a 2020 reelection campaign account. Trump was officially the first-ever president to file for reelection early, just over a year after entering the White House, and is apparently already hoarding campaign cash.
Trump filed his reelection bid just over a year after taking office and has already started financing his campaign. A new disclosure reveals Trump's campaign funds and spending in the past three months, from April to the end of June. By the end of June, Trump had hoarded $33 million of his own cash in his 2020 campaign account. He has also established two joint fundraising committees to get an unprecedented head start on his reelection. Overall, Trump's campaign and his two joint fundraising committees has raised $90 million. This means each fundraising committee had $53 million at the end of June.
However, Trump's reelection campaign is already getting shady two years before it officially begins. Between April and the end of June, Trump's campaign paid Trump properties $150,000. This funding was used to rent space in Trump Tower, as well as to pay for meals and rooms at the Trump International Hotel in Washington, D.C. and the Trump Doral Golf Resort in Miami. To make the stockpile and spending even more questionable, the campaign paid Trump's campaign manager Brad Parscale's firm $1.3 million in the past three months. The disclosure states that the Parscale payment was for "digital consulting/online advertising." 
In comparison, during the 2016 election, Trump spent $65 million of his own cash on the campaign, despite his promises to spend $100 million. However, most of his final $600 million campaign funding was questioned by government ethics officials. The new disclosure reveals Trump's legal fees will continue into the 2020 election. In the past three months, Trump has spent $340,000 on legal fees. In contrast, during the first three months of 2018, he spent $800,000 on legal fees. Overall, he has spent over $1 million on legal fees just in 2018 so far. In the past three months, his payments included more than $207,000 to the Jones Day firm that is representing him and more than $48,000 to McDermott Will & Emery, who represented Michael Cohen until June.
In the 2016 presidential race, small individual donations were the foundation for Trump's campaign financing. Somehow, Trump's second campaign is receiving those donations again. In the past three months, his campaign has raised $9.6 million from donors contributing $200 or less. In addition to the small donations, the Republican National Committee established a joint fundraising committee called Trump Victory which aims to reel in the big checks from rich Republicans. In the same three months, Trump Victory raised $4.4 million.
Trump's daughter in-law Lara Trump is the campaign's senior advisor. She recently released a statement that echoes the terrifying 2016 Trump campaign speeches:
We are thrilled with the continued support of so many Americans who resoundingly approve of Donald Trump's performance as President. The American people clearly see how hard President Trump is working to reclaim their jobs lost to bad trade deals, increase their take home pay through historic tax cuts, and make their communities safer through his immigration enforcement and initial work to build the wall.
The super PAC America First Action supports Trump and candidates backed by Trump. On top of Trump's current balance in his campaign account, the super PAC has already raised more than $11.2 million.