Trump Says He'd Look at Dirt given to Him by Russia, Confirms What We've Already Known
Images via Win McNamee/Getty
Politics
News
Donald Trump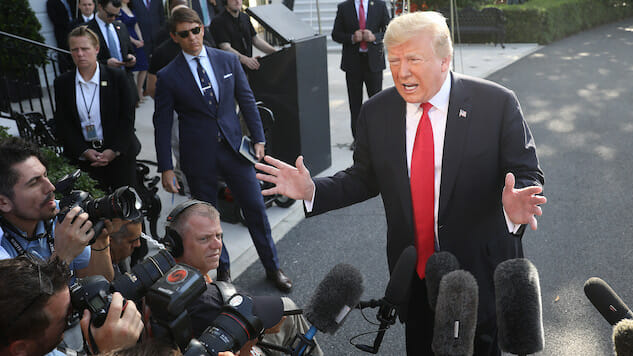 Last week, we reported on how Senate Majority Leader Mitch McConnell was actively blocking any attempts at passing bipartisan laws that would prevent foreign meddling in the upcoming 2020 election.
Today, ABC News shared an interview with President Trump in which he says that if a foreign power attempted him with dirt on an opponent, he'd listen. "There's nothing wrong with listening," Trump says, before modifying that with, "It's not interference, they have information—I think I'd take it." Convenient!
Trump also suggested that he wouldn't necessarily have the obligation to report the information to the FBI, which blatantly stands at odds with how the FBI works. "The FBI director is wrong," Trump said, simply.
The link between the blocking of election security and Trump's statements today couldn't be clearer; they're both basically encouraging meddling in the 2020 election, asking for a helping hand from Russia.
David Frum, a reporter at The Atlantic, is quick to note the similarity between Trump's transparency here and Nixon's secretive statements to his aide back in 1972:
Like the smoking gun tape, if Nixon had confessed on national television to a network anchor instead of in the secrecy of the Oval Office to his most trusted aide https://t.co/sdQRTT4JFu

— David Frum (@davidfrum) June 12, 2019
Like Nixon, Trump said an impeachable offence in the Oval Office. Unlike Nixon, nobody seems to be doing anything about it.
As of the time of this writing, Senator Chuck Schumer has taken to the Senate floor in an attempt to pass legislation that requires a campaign to report to the FBI should a foreign power offer assistance. Schumer makes it clear: "There is no good reason for anyone to object."
I am headed to the Senate floor with @MarkWarner to try to pass legislation to make it a campaign's legal duty to report to the FBI when a foreign power offers assistance.

There is no good reason for anyone to object. https://t.co/PM4PL6Eyiv

— Chuck Schumer (@SenSchumer) June 13, 2019