Trump Has Phone Call With Putin, Talks About "Russian Hoax," Says Nothing About Election Meddling
Photo by Chip Somodevilla/Getty
Politics
News
Donald Trump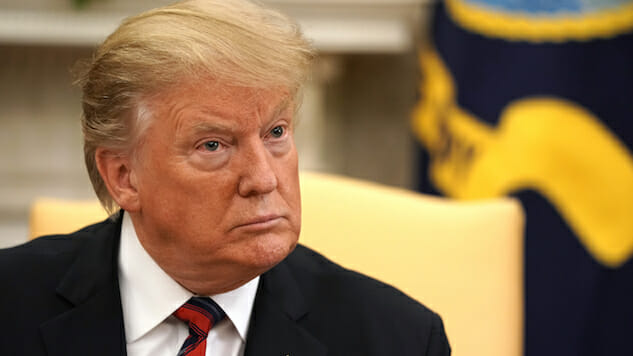 President Trump had a phone call with his good buddy Vladimir Putin on Friday in which they "discussed five or six things" and also "went into great detail on various things," as Trump told reporters at the Oval Office. However, one thing they didn't discuss was the American intelligence community's belief that Russia has continued its efforts to meddle in our electoral process, both in 2018 and beyond.
They did find time to briefly discuss the findings of special counsel Robert Mueller's report, which was released in a redacted state last month. According to Trump, "[Putin] sort of smiled when he said something to the effect that it started up as a mountain and ended up as a mouse," which is about the most sinister thing he could have said in that moment. "But he knew that because he knew that there was no collusion," Trump added.
The phone call was initiated by Trump as part of a larger discussion between the two countries about the future of Venezuela, North Korea, Ukraine and global trade, among other subjects. However, the call was largely focused on Venezuela and Russia's continued support of the embattled Venezuelan President Nicolás Maduro. Trump was reportedly focused on the humanitarian aid being sent to the Venezuelan people and getting Putin to walk back his support of Maduro. White House press secretary Sarah Sanders was unable to give reporters a direct answer about whether the president made any progress on this front.
Meanwhile, the pressure is mounting from House Democrats for the Justice Department to release the full, unredacted Mueller report and all of its underlying evidence. Rep. Jerrold Nadler, the chairman of the House Judiciary Committee, previously stated that if Attorney General William Barr fails to turn over the full report by Monday, he will be held in contempt of Congress.