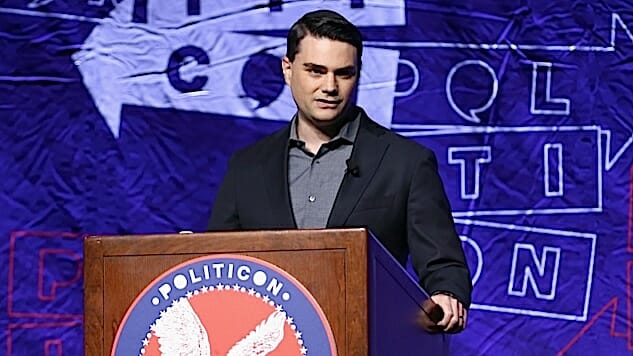 So, look at this tweet:
The same Left that despises President Trump despised George W. Bush long before him. https://t.co/zphKLPuQZe via @BenShapiropic.twitter.com/5PJajmMlHM

— National Review (@NRO) November 20, 2018
What we're seeing here is conservative commentator and smirky "facts don't care about your feelings" truth-defender Ben Shapiro mustering his rage about the new Karl Rove movie to drop a bomb on the political world. Turns out, many liberals who don't like Trump—get ready for the shock of your life, folks—also didn't like George W. Bush.
If I'm reading Ben correctly, it's almost as though people who oppose conservative policies generally oppose the leaders who espouse them. How dare they. There are not enough pearls in the world for the clutching I could do right now.
Here's Shapiro explaining his premise in the actual article:
Here's the reality; the same Left that despises President Trump despised George W. Bush long before him. For the most part, the talk about Trump disgracing the office, the talk about Trump's toxic personality, the talk about Trump's divisiveness — all of it is just a cover for the fact that those on the cultural left despise those who aren't on the political left. They see them as idiots and rubes (W.), or as evil manipulators (Cheney). For them, Trump isn't an outlier — he's merely the latest iteration of the dastardly conservative movement that launched with Nixon, extended through Reagan, grew to Bush, and now culminates in Trump. At least McKay is honest enough to admit that simple fact. Trump, for the Left, isn't a departure from conservatism. He's just another variation on a theme.
Yes, yes, and yes. I mean, I wouldn't use the word "dastardly," because it's silly and infantilizing, and his cultural/political distinction is nonsense, but otherwise, sure, this is all true. But why does Shapiro act like this is a surprise, or strange in any way? If you despise Trump, you should despise George W. Bush. The only people who don't are the soft #resistance liberals who don't actually care about politics and desperately want to go back to a time when they didn't have to think about anything but brunch.
Like almost every Ben Shapiro piece, this one is intellectually lazy and rife with fact errors (despite being pretty short), and not worth engaging on its merits. But his big Trump-Bush "revelation" is obvious and funny enough that Twitter piled on, and the results—from the comical to the serious—were almost worth the price of admission. Sit back and enjoy:
the jig is up, folks. ben shapiro is onto us. https://t.co/Iz7U1w7Esf

— Matt Binder (@MattBinder) November 20, 2018
How is Ben Shapiro so smart

— Luke Savage (@LukewSavage) November 20, 2018
hi i'm ben shapiro and my analysis is that i like i like terrible presidents https://t.co/NiChmtBZp7

— Hasan Piker (@hasanthehun) November 20, 2018
"Before they hated Bush, leftists hated a war criminal mass murderer too"

-Ben Shapiro, distinguished intellectual https://t.co/QvbSFHIBT0

— Zach Buncy (@zach_buncy) November 20, 2018
that ben shapiro article is gonna be the #1 linked story on facebook today isn't it

— mark (@kept_simple) November 20, 2018
The spread of the belief that disliking both the GWB admin and the Trump admin is somehow contradictory or discordant is a sign of how perverted our discourse has become. https://t.co/ekDRCxXefQ

— Justin Vogt (@Justin_Vogt) November 20, 2018
Shapiro manages to write about how the left hated George W Bush without once mentioning any policies that drove the opposition — like, say, the two catastrophic and pointless wars he started that were never paid for and for which no one was held accountable https://t.co/bzK01si9o0

— Robert Maguire (@RobertMaguire_) November 20, 2018
Google search: how to fail upwards as effectively as Ben Shapiro https://t.co/AfsTmiItAj

— Res Hitters Union (@noharmparm) November 20, 2018
Wait until Ben Shapiro finds out what we think of Reagan

— Eoin Thankins (@EoinHiggins_) November 20, 2018
My only quibble is that it wasn't that long ago. In fact, I still hate him today

— The Discourse Lover (@Trillburne) November 20, 2018
and we weren't wrong

— Sundae93 (@sundaegirl93) November 20, 2018
This also works if you replace "Left" with "large majority of Americans" https://t.co/m0oTly7tp3

— Jon Schwarz (@schwarz) November 20, 2018
look at the big brain on ben

— professor of cryptid erotica studies (@woke_hoover) November 20, 2018
Oh no! Democrats couldn't stand a President who left office with a 25% approval rating, war based on lies, a campaign that repeatedly winked at the bigoted right-wing over gay marriage and saddled the country with the Great Recession! The horror!

— The Book Viking (@thebookviking) November 20, 2018
Yes because they're both awful

— PeterNorway (@classiclib3ral) November 20, 2018
— Greg Greene (@ggreeneva) November 20, 2018
damn… fuck… we were hoping nobody would notice

— Brandy Jensen (@BrandyLJensen) November 20, 2018