Rex Tillerson Didn't Deny Calling Trump a Moron, Then Trump Challenged Him to an IQ Test – Yes, Really
Photo by Pool/Getty
Politics
News
Donald Trump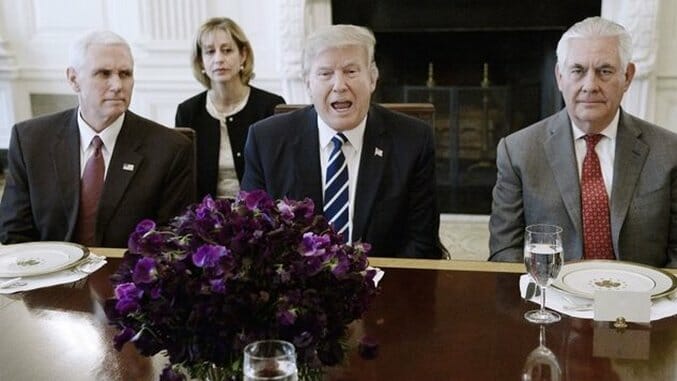 We live in hell. Trump gave an interview to Forbes, and they asked him about the infamous report that Tillerson called Trump a "moron" and Tillerson's non-denial, so passive aggressive Donald decided to fire back. Sad!
"I think it's fake news, but if he did that, I guess we'll have to compare IQ tests. And I can tell you who is going to win."
Seriously folks, this is really, really sad. Our Secretary of State can't speak his mind without having it leak to the press because this administration despises its leader and his acolytes and can't stop telling the press about it, and our president is so petty that he basically needs to have a dick measuring contest every day—except given his desperate need to prove himself a manly man on a constant basis, I think it's pretty clear to everyone how lacking he is in that department. I envision Trump taking an IQ test looking something like the famed episode of Seinfeld, with George Costanza playing the role of Trump, Elaine Benes as Kellyanne Conway and Jerry Seinfeld as John Kelly.
Jacob Weindling is a staff writer for Paste politics. Follow him on Twitter at @Jakeweindling.