Trump Expected to Take Executive Action to Include Unnecessary Citizenship Question on 2020 Census
Photo by Alex Wong/Getty
Politics
News
Donald Trump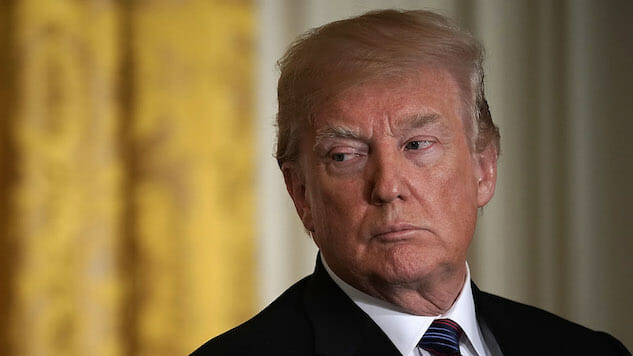 Per NBC News, Trump is expected to announce the use of executive action to add a citizenship question to the 2020 census.
The news follows recent reports that census forms were being printed without the question. Commerce Secretary Wilbur Ross failed to provide sufficient reasoning for the question's inclusion, the Supreme Court ruled.
In typically self-aggrandizing behavior, Trump tweeted that the announcement will likely take place during a press conference at the end of today's (July 11) Social Media Summit: "Would I have become president without Social Media? Yes (probably)! At its conclusion, we will all go to the beautiful Rose Garden for a News Conference on the Census and Citizenship."
The citizenship question should not be included on the census forms; it is a method of further silencing a marginalized demographic. Between the looming threat of concentration camps, white nationalism and deportation, the census failing to represent immigrant populations would create an image of the country that does not accurately reflect the makeup of the American demographic.
In May, we reported that the citizenship question was a Republican voter suppression strategy. Substitute Thapliyal wrote that "a similar census question was used by the government during WWII to round up Japanese-Americans for internment," reflecting the frightful regressions of the question's inclusion.
In other, equally scary news, ICE raids are expected to start on Sunday. The New York Times reports that the raids will occur across 10 major cities, and will target more than 2,000 immigrant families. For more information on what you can do to get involved in the face of these raids, head here.