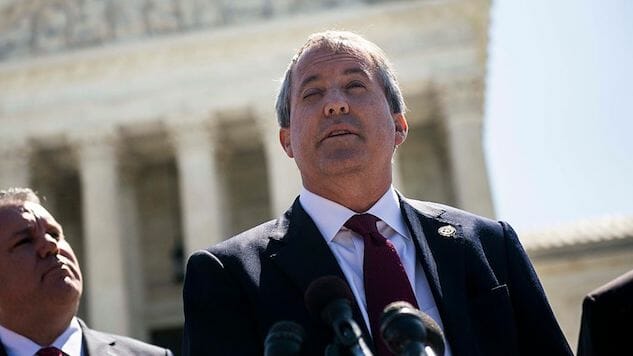 On Jan. 25, Ken Paxton, the Attorney General of Texas, tweeted "VOTER FRAUD ALERT," claiming that Texas Secretary of State David Whitley had discovered approximately 95,000 non-citizens who were illegally registered to vote in the state. Paxton also claimed that 58,000 of them had already voted in Texas' election. Two days later, this information had made its way—supposedly through Trump's favorite program, Fox and Friends—to the president, prompting a tweet:
58,000 non-citizens voted in Texas, with 95,000 non-citizens registered to vote. These numbers are just the tip of the iceberg. All over the country, especially in California, voter fraud is rampant. Must be stopped. Strong voter ID! @foxandfriends

— Donald J. Trump (@realDonaldTrump) January 27, 2019
By Jan. 29, however, Whitely began to walk back his original claims. By the time that some counties had already begun demanding listed residents prove their citizenship or lose their right to vote, many counties told The Texas Tribune that they had been informed by the Secretary's office that a "substantial number" of those listed residents were actually citizens. Does the situation sound like a confusing mess? That's likely the outcome Paxton had hoped for.
It's not exactly an original ploy for a voter ID hawk to run a shock-and-awe campaign in the hope of stripping minorities of their voting rights before the smoke clears. As Slate points out, "creating dubious lists of allegedly fraudulent voters to disenfranchise, and forcing people to prove citizenship in order to cast a ballot" is practically the oldest trick in the book. Whitley's dubious list was surely created with this strategy in mind: He cross-referenced a dataset of driver's license renewers who stated they were not citizens at the time that dated back to 1996 with a list of Texas voters. ??
What's wrong with this method? Well, 50,000 Texas residents are granted citizenship each year, and that naturalization process does not necessitate informing the Department of Public Safety. Thus, as Slate again explains, "driver's licenses issued to non-citizens are valid for six years, and over the last six years, nearly 350,000 Texas adults have been naturalized. If even one-third of those adults registered to vote, they could easily account for the total number of 'non-citizen' voter registrants on Whitley's list."
This means then that many of these legal voters, erroneously listed as illegally registered, will receive a single notice that they are set to be stripped of their right to vote if they do not go through the process of declaring citizenship. Obviously—and especially considering that the Latinx population in Texas has a higher ratio of naturalized-to-native-born citizens—there are pending lawsuits against the state following this flagrant abuse of power. The Mexican American Legal Defense and Education Fund, the League of United Latin American Citizens and the American Civil Liberties Union have all filed on behalf of Texas voters targeted by Whitley's list.
But these suits aren't guaranteed to hold up against Trump's conservative Supreme Court. Ever since the court gutted the Voting Rights Act—which could've nipped this voter purge in the bud—and more recently ruled in favor of discriminatory gerrymandering in Texas, it's been made clear that cases of blatant racist disenfranchisement such as this one aren't as readily shut down as they should be.