Watch: Florida Gov. Candidate Andrew Gillum Just Showed All Democrats How to Handle Republicans in Debate
Screencap via YouTube
Politics
Features
Democrats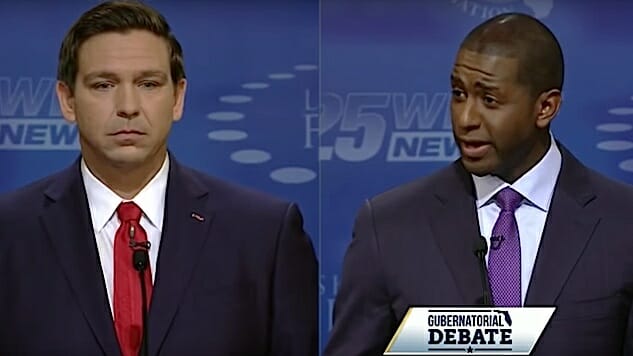 Andrew Gillum, the Democratic candidate for governor in Florida and mayor of Tallahassee, is running against Republican Ron DeSantis. DeSantis has been accused of a variety of crypto-racist comments, including the time he said voters shouldn't "monkey this up" when referring to the possibility that Gillum, a black man, might be elected. In a debate last night, the moderator confronted DeSantis on the litany of comments and actions that point to racial motivations, and DeSantis responded angrily. Then it was Gillum's turn:
As my grandmother used to say — a hit dog will holler. pic.twitter.com/kC34Ldd0is

— Andrew Gillum (@AndrewGillum) October 25, 2018
That's the perfect response. It's aggressive, it's funny, and it doesn't seek out some Schumer-esque milquetoast middle ground. And it's also true, as Vox pointed out:
But what Gillum said is true. DeSantis did talk at a conference held by a man with white nationalist views. DeSantis did take money from someone who called President Barack Obama a racist slur (although he condemned the comments and said he will no longer take money from the contributor). He has been reportedly supported by a white supremacist group from Idaho through racist robocalls (which the DeSantis campaign, for its part, called "appalling and disgusting").
Any Democrat who watched this needs to take note—a bit of charisma, combined with refusing to constantly play defense or kowtow to an imagined middle, can work wonders. It's no surprise that Gillum leads in polls by an average of about six points. Voters respond to this. They want passionate people, and they want someone who tells it like it is.
You can watch the full clip, which includes DeSantis' original response, below.