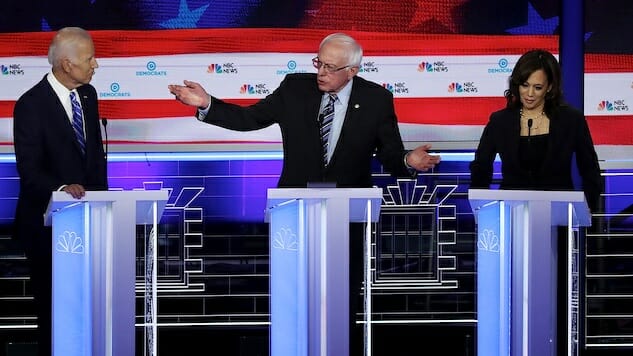 Following the first round of Democratic primary debates, the lineups for the next round have been released, per The New York Times.
Airing July 30 and July 31 on CNN, the two groups going into the second round presidential debates still have lots of topics to cover after the messy first round.
After the first round, Sen. Kamala Harris and former vice president Joe Biden dominated headlines after Harris called out Biden's spotty record with race relations during night two of the first round, and it seems like they'll have the chance to do so again during night two of the second round.
The full exchange between Kamala Harris and Joe Biden on Biden's history with racial issues. pic.twitter.com/sK950pFyvf

— Axios (@axios) June 28, 2019
Twitter also had a laugh or two after Democratic presidential candidate Marianne Williamson's old tweets were resurfaced.
The two groups of 10 were chosen randomly by CNN during a televised event. Tuesday, July 30, will see Williamson, Tim Ryan, Amy Klobuchar, Pete Buttigieg, Bernie Sanders, Elizabeth Warren, Beto O'Rourke, John Hickenlooper, John Delaney and Steve Bullock face off. On Wednesday, July 31, Biden, Harris, Michael Bennett, Kirsten Gillibrand, Julián Castro, Cory Booker, Andrew Yang, Tulsi Gabbard, Jay Inslee and Bill de Blasio will debate.
The debate will mark the first time Steve Bullock has made an appearance during the Democratic primary debates after not qualifying for the first round. He takes the place of Eric Swalwell, who dropped out of the race last week.
With some key matchups, Harris and Biden will most likely contend with each other again, and Booker will possibly chime in on the issue of Biden's race relations, if the topic is brought up. Booker and Biden previously had some words over Biden's previous interactions with segregationist senators.
Otherwise, the debate between Elizabeth Warren, Bernie Sanders on night one is sure to be interesting to watch. Apparently, Sanders and Warren have previously agreed not to attack each other, but as they stand next to each other on the debate stage, that agreement is sure to be tested.
The second round of debates will help determine who will make it to the party's third round of debates in September. The bar has been raised on how candidates can make it, and currently only six candidates qualify. Each candidate needs 130,000 donors and a 2% poll rating to make it to Houston in September. If 10 or fewer candidates make it to the third round, the debate will be held on a single night.