Virginia Magistrate Seeks Arrest of Man Beaten During White Supremacist Rally
Yes, you read that correctly.
Mark Wilson / Getty
Politics
Features
DeAndre Harris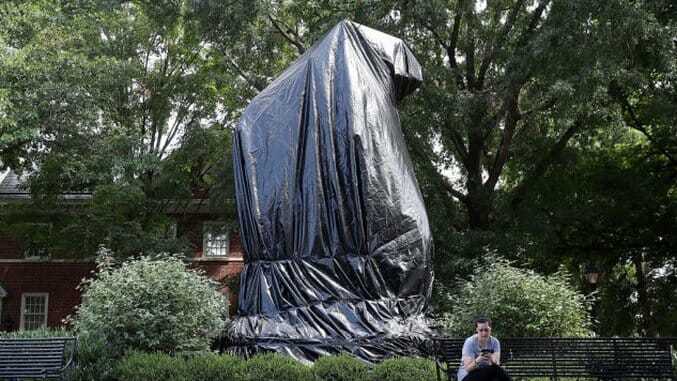 Suppose you got beaten up by white supremacists, and the thrashing was recorded. Suppose it was obvious, even in the sight of the blind, that your rights and your well-being had been violated by stick-wielding Nazis. Suppose you were the victim, and suppose that enough time had passed—two months or so—that a reasonable victim might reasonably think that justice was due. You would be mistaken. Justice arrives slow, if ever. But injustice is always right on time.
A young African-American man, DeAndre Shakur Harris—a school teacher—got stomped by a gang of white supremacists in a parking garage during the Nazi Rally in Charlottesville. Harris now faces the possibility of a felony charge, as decreed by a magistrate in Virginia. According to the Post:
A local magistrate on Monday issued an arrest warrant for DeAndre Harris on an unlawful wounding charge after an accuser, whom police did not identify, claimed to have been injured by the 20-year-old during the brawl, authorities told local media. S. Lee Merritt, a civil attorney for Harris, told The Washington Post the charge was "clearly retaliatory" and described the accuser as a member of a white supremacist group. He maintained that Harris did not instigate the fight. "We find it highly offensive and upsetting, but what's more jarring is that he's been charged with the same crime as the men who attacked him," he said.
According to reports, it is strange for a warrant to be rendered by magistrates instead of the police themselves. As Merritt points out, the charge suggests that the accusers were trying to implicate Harris in the violence. According to his attorney, Harris plans to turn himself in.
Per NBC News:
The beating, which was captured on camera and quickly spiraled across the internet, occurred after a white supremacist tried to spear a counter-protester with a flag pole, the Washington Post reported in August. Then, Harris — a former special education instructional assistant — swung a flashlight at the man, possibly striking him, according to the Post. Several white men descended on Harris in the East Market Street parking garage in Charlottesville, and images showed them kicking and hitting him with what appeared to be poles while he's curled up on the ground. An account of the beating posted to a fundraising website started by Harris said that he was chased and repeatedly knocked unconscious.
According to Intercept writer Shaun King, Harris' accuser was an alleged white supremacist who'd been arrested in the scuffle. King reported that the police, "who've viewed every photo and video imaginable," told him "they had no intention on charging DeAndre." One of the alleged attackers couldn't get the police interested in arresting Harris. Since the police failed him, the alleged attacker went to a judge who up and decided, without appropriate investigation, to drag Andre in. According to King, "Local police are now in a position to enforce a warrant they expressly told me they don't believe in."
Miscarriages of justice have been habitual in Harris case:
This is fucking unbelievable. I STILL have not been interviewed by #CVille PD or the @FBI about his attack. They have NO interested in it. pic.twitter.com/oZBr7NFEV3

— Zach D Roberts (@zdroberts) October 10, 2017
What of the men who allegedly attacked Harris? We have reports on two of the suspects. Per the Daily Progress:
Last month, a judge denied bond for Alex Michael Ramos, 33, of Jackson, Georgia, who is charged in the felonious assault of Harris, who said he suffered a concussion, a broken ulna and had eight staples to close a scalp wound. He also said he had cuts across his eyebrow, a chipped tooth and abrasions on his knees and elbows. Daniel Patrick Borden, 18, of Mason, Ohio, also is charged with malicious wounding in the Harris assault. He was arrested in the Cincinnati area on Aug. 25 and held in Ohio, initially indicating he would fight extradition. On Sept. 15, he waived extradition and was sent to the Albemarle-Charlottesville Regional Jail. On Sept. 21, he was denied bond.
According to The Root, "Harris' head injuries were so severe that he required eight staples. He also suffered a broken wrist and a chipped tooth."
As of this writing, it was unclear whether the government of Virginia was seeking the arrest of other victims of Unite the Right.