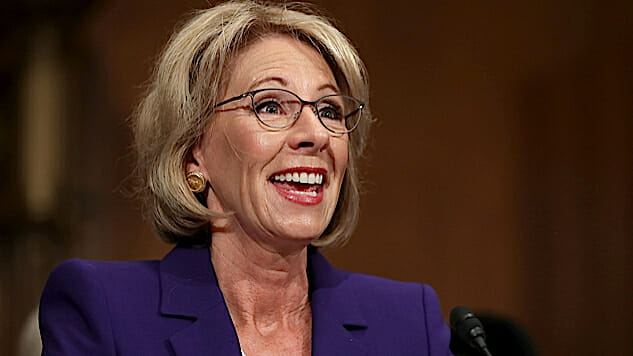 Going into the nomination hearings for President Donald Trump's cabinet picks there was a lot of "Sturm und Drang" from Democrats about opposing nominees and rejecting deeply flawed candidates put before them.
And that noise has largely been amplified when Trump's nominees go before the full senate. While Democrats such as: Chuck Schumer (N.Y.), Tim Kaine (D-VA), Diane Feinstein (D-Calif.) and Heidi Heitkamp (D-N.D.) have voted "Yea" on several of the nominees, Democrats such as Kirsten Gillibrand (D-N.Y.), Elizabeth Warren (D-Mass.) and Martin Heinrich (N.M.) have voted "Nay" on a lion's share of Trump nominees, including Betsy Devos, Steve Mnuchin, Scott Pruitt and Jeff Sessions.
Below you can find a list of which Democrats have voted for whom so far. And look for the list to be updated as nominations continue to come before the full Senate.
Ben Carson (Secretary of Housing and Urban Development)
Yeas from: Sherrod Brown (Ohio), Joe Donnelly (Ind.), Heidi Heitkamp (N.D.), Angus King (Maine), Joe Manchin (W. Va.), Jon Tester (Mont.) and Mark Warner (Va.)
Nays from: Tammy Baldwin (Wis.), Michael Bennet (Colo.), Richard Blumenthal (Conn.), Cory Booker (N.J.), Maria Cantwell (Wash.), Ben Cardin (Md.), Tom Carper (Del.), Bob Casey (Pa.), Chris Coons (Del.), Catherine Cortez Masto (Nev.), Tammy Duckworth (Ill.), Dick Durbin (Ill.), Dianne Feinstein (Calif.), Al Franken (Minn.), Kirsten Gillibrand (N.Y.), Kamala Harris (Calif.), Maggie Hassan (N.H.), Martin Heinrich (N.M.), Mazie Hirono (Hawaii), Tim Kaine (Va.), Amy Klobuchar (Minn.), Patrick Leahy (Vt.), Ed Markey (Mass.), Claire McCaskill (Mo.), Bob Menendez (NJ.), Jeff Merkley (Ore.), Patty Murray (Wash.), Chris Murphy (Conn.), Bill Nelson (Fla.), Gary Peters (Mich.), Jack Reed (R.I.), Bernie Sanders (Vt.), Brian Schatz (Hawaii), Chuck Schumer (N.Y.), Jeanne Shaheen (N.H.), Debbie Stabenow (Mich.), Tom Udall (N.M.), Chris Van Hollen (Md.), Elizabeth Warren (Mass.), Sheldon Whitehouse (R.I.) and Ron Wyden (Ore.)
Elaine Chao (Secretary of Transportation)
Yeas from: Tammy Baldwin (Wis.), Michael Bennet (Colo.), Richard Blumenthal (Conn.), Sherrod Brown (Ohio), Maria Cantwell (Wash.), Ben Cardin (Md.), Tom Carper (Del.), Bob Casey (Pa.), Catherine Cortez Masto (Nev.), Joe Donnelly (Ind.), Tammy Duckworth (Ill.), Dick Durbin (Ill.), Dianne Feinstein (Calif.), Al Franken (Minn.), Kamala Harris (Calif.), Maggie Hassan (N.H.), Heidi Heitkamp (N.D.), Mazie Hirono (Hawaii), Tim Kaine (Va.), Angus King (Maine), Amy Klobuchar (Minn.), Patrick Leahy (Vt.), Joe Manchin (W. Va.), Ed Markey (Mass.), Claire McCaskill (Mo.), Bob Menendez (NJ.), Chris Murphy (Conn.), Patty Murray (Wash.), Bill Nelson (Fla.), Gary Peters (Mich.), Jack Reed (R.I.), Brian Schatz (Hawaii), Jeanne Shaheen (N.H.), Debbie Stabenow (Mich.), Jon Tester (Mont.), Tom Udall (N.M.), Chris Van Hollen (Md.), Mark Warner (Va.), Sheldon Whitehouse (R.I.) and Ron Wyden (Ore.)
Nays from: Cory Booker (N.J.), Kirsten Gillibrand (N.Y.), Jeff Merkley (Ore.), Bernie Sanders (Vt.), Chuck Schumer (N.Y.) and Elizabeth Warren (Mass.)
Betsy DeVos (Secretary of Education)
Yays from: No one
.
Nays from: Tammy Baldwin (Wis.), Michael Bennet (Colo.), Richard Blumenthal (Conn.), Cory Booker (N.J.), Sherrod Brown (Ohio), Maria Cantwell (Wash.), Ben Cardin (Md.), Tom Carper (Del.), Bob Casey (Pa.), Chris Coons (Del.), Catherine Cortez Masto (Nev.), Joe Donnelly (Ind.), Tammy Duckworth (Ill.), Dick Durbin (Ill.), Dianne Feinstein (Calif.), Al Franken (Minn.), Kirsten Gillibrand (N.Y.), Kamala Harris (Calif.), Maggie Hassan (N.H.), Martin Heinrich (N.M.), Heidi Heitkamp (N.D.), Mazie Hirono (Hawaii), Tim Kaine (Va.), Angus King (Maine), Amy Klobuchar (Minn.), Patrick Leahy (Vt.), Joe Manchin (W. Va.), Ed Markey (Mass.), Claire McCaskill (Mo.), Bob Menendez (NJ.), Jeff Merkley (Ore.), Chris Murphy (Conn.), Patty Murray (Wash.), Bill Nelson (Fla.), Gary Peters (Mich.), Jack Reed (R.I.), Bernie Sanders (Vt.), Brian Schatz (Hawaii), Chuck Schumer (N.Y.), Jeanne Shaheen (N.H.), Debbie Stabenow (Mich.), Jon Tester (Mont.), Tom Udall (N.M.), Chris Van Hollen (Md.), Mark Warner (Va.), Elizabeth Warren (Mass.), Sheldon Whitehouse (R.I.) and Ron Wyden (Ore.) [Also votes from: Susan Collins (R-Maine) and Lisa Murkowski (R-Alaska)]
Nikki Haley (U.N. Ambassador)
Yeas from: Tammy Baldwin (Wis.), Michael Bennet (Colo.), Richard Blumenthal (Conn.), Cory Booker (N.J.), Sherrod Brown (Ohio), Maria Cantwell (Wash.), Ben Cardin (Md.), Tom Carper (Del.), Bob Casey (Pa.), Catherine Cortez Masto (Nev.), Joe Donnelly (Ind.), Tammy Duckworth (Ill.), Dick Durbin (Ill.), Dianne Feinstein (Calif.), Al Franken (Minn.), Kirsten Gillibrand (N.Y.), Kamala Harris (Calif.), Maggie Hassan (N.H.), Heidi Heitkamp (N.D.), Mazie Hirono (Hawaii), Tim Kaine (Va.), Angus King (Maine), Amy Klobuchar (Minn.), Patrick Leahy (Vt.), Joe Manchin (W. Va.), Ed Markey (Mass.), Claire McCaskill (Mo.), Bob Menendez (NJ.), Jeff Merkley (Ore.), Chris Murphy (Conn.), Patty Murray (Wash.), Bill Nelson (Fla.), Gary Peters (Mich.), Jack Reed (R.I.), Brian Schatz (Hawaii), Chuck Schumer (N.Y.), Jeanne Shaheen (N.H.), Debbie Stabenow (Mich.), Jon Tester (Mont.), Chris Van Hollen (Md.), Mark Warner (Va.), Elizabeth Warren (Mass.), Sheldon Whitehouse (R.I.) and Ron Wyden (Ore.)
Nays from: Chris Coons (Del.), Martin Heinrich (N.M.), Bernie Sanders (Vt.) and Tom Udall (N.M.)
John Kelly (Homeland Security)
Yeas from: Tammy Baldwin (Wis.), Michael Bennet (Colo.), Sherrod Brown (Ohio), Maria Cantwell (Wash.), Ben Cardin (Md.), Tom Carper (Del.), Bob Casey (Pa.), Chris Coons (Del.), Joe Donnelly (Ind.), Tammy Duckworth (Ill.), Dick Durbin (Ill.), Dianne Feinstein (Calif.), Al Franken (Minn.), Maggie Hassan (N.H.), Heidi Heitkamp (N.D.), Mazie Hirono (Hawaii), Tim Kaine (Va.), Angus King (Maine), Amy Klobuchar (Minn.), Patrick Leahy (Vt.), Joe Manchin (W. Va.), Ed Markey (Mass.), Claire McCaskill (Mo.), Bob Menendez (NJ.), Chris Murphy (Conn.), Patty Murray (Wash.), Bill Nelson (Fla.), Gary Peters (Mich.), Jack Reed (R.I.), Brian Schatz (Hawaii), Chuck Schumer (N.Y.), Jeanne Shaheen (N.H.), Debbie Stabenow (Mich.), Jon Tester (Mont.), Mark Warner (Va.) and Sheldon Whitehouse (R.I.)
Nays from: Richard Blumenthal (Conn.), Cory Booker (N.J.), Catherine Cortez Masto (Nev.), Kirsten Gillibrand (N.Y.), Kamala Harris (Calif.), Martin Heinrich (N.M.), Jeff Merkley (Ore.), Tom Udall (N.M.), Chris Van Hollen (Md.), Elizabeth Warren (Mass.) and Ron Wyden (Ore.)
James Mattis (Secretary of Defense)
Yeas from: Tammy Baldwin (Wis.), Michael Bennet (Colo.), Cory Booker (N.J.), Sherrod Brown (Ohio), Maria Cantwell (Wash.), Ben Cardin (Md.), Tom Carper (Del.), Bob Casey (Pa.), Chris Coons (Del.), Catherine Cortez Masto (Nev.), Joe Donnelly (Ind.), Tammy Duckworth (Ill.), Dick Durbin (Ill.), Dianne Feinstein (Calif.), Al Franken (Minn.), Kamala Harris (Calif.), Maggie Hassan (N.H.), Heidi Heitkamp (N.D.), Mazie Hirono (Hawaii), Tim Kaine (Va.), Angus King (Maine), Amy Klobuchar (Minn.), Patrick Leahy (Vt.), Joe Manchin (W. Va.), Ed Markey (Mass.), Claire McCaskill (Mo.), Bob Menendez (NJ.), Chris Murphy (Conn.), Patty Murray (Wash.), Bill Nelson (Fla.), Gary Peters (Mich.), Jack Reed (R.I.), Brian Schatz (Hawaii), Chuck Schumer (N.Y.), Jeanne Shaheen (N.H.), Debbie Stabenow (Mich.), Jon Tester (Mont.), Tom Udall (N.M.), Chris Van Hollen (Md.), Elizabeth Warren (Mass.), Mark Warner (Va.) and Sheldon Whitehouse (R.I.)
Nays from: Kirsten Gillibrand (N.Y.)
Linda McMahon (Small Business Administration)
Yeas from: Michael Bennet (Colo.), Richard Blumenthal (Conn.), Maria Cantwell (Wash.), Ben Cardin (Md.), Tom Carper (Del.), Bob Casey (Pa.), Chris Coons (Del.), Catherine Cortez Masto (Nev.), Joe Donnelly (Ind.), Tammy Duckworth (Ill.), Dianne Feinstein (Calif.), Al Franken (Minn.), Maggie Hassan (N.H.), Heidi Heitkamp (N.D.), Mazie Hirono (Hawaii), Tim Kaine (Va.), Angus King (Maine), Amy Klobuchar (Minn.), Patrick Leahy (Vt.), Joe Manchin (W. Va.), Claire McCaskill (Mo.), Bob Menendez (NJ.), Chris Murphy (Conn.), Bill Nelson (Fla.), Gary Peters (Mich.), Jeanne Shaheen (N.H.), Debbie Stabenow (Mich.), Jon Tester (Mont.) and Mark Warner (Va.)
Nays from: Tammy Baldwin (Wis.), Cory Booker (N.J.), Sherrod Brown (Ohio), Dick Durbin (Ill.), Kirsten Gillibrand (N.Y.), Kamala Harris (Calif.), Martin Heinrich (N.M.), Ed Markey (Mass.), Jeff Merkley (Ore.), Patty Murray (Wash.), Jack Reed (R.I.), Bernie Sanders (Vt.), Brian Schatz (Hawaii), Chuck Schumer (N.Y.), Tom Udall (N.M.), Chris Van Hollen (Md.), Elizabeth Warren (Mass.), Sheldon Whitehouse (R.I.) and Ron Wyden (Ore.)
Steve Mnuchin (Secretary of Treasury)
Yeas from: Joe Manchin (W. Va.)
Nays from: Tammy Baldwin (Wis.), Michael Bennet (Colo.), Richard Blumenthal (Conn.), Cory Booker (N.J.), Sherrod Brown (Ohio), Maria Cantwell (Wash.), Ben Cardin (Md.), Tom Carper (Del.), Bob Casey (Pa.), Chris Coons (Del.), Catherine Cortez Masto (Nev.), Joe Donnelly (Ind.), Tammy Duckworth (Ill.), Dick Durbin (Ill.), Dianne Feinstein (Calif.), Al Franken (Minn.), Kirsten Gillibrand (N.Y.), Kamala Harris (Calif.), Maggie Hassan (N.H.), Martin Heinrich (N.M.), Heidi Heitkamp (N.D.), Mazie Hirono (Hawaii), Tim Kaine (Va.), Angus King (Maine), Amy Klobuchar (Minn.), Patrick Leahy (Vt.), Ed Markey (Mass.), Claire McCaskill (Mo.), Bob Menendez (NJ.), Jeff Merkley (Ore.), Chris Murphy (Conn.), Patty Murray (Wash.), Bill Nelson (Fla.), Gary Peters (Mich.), Jack Reed (R.I.), Bernie Sanders (Vt.), Brian Schatz (Hawaii), Chuck Schumer (N.Y.), Jeanne Shaheen (N.H.), Debbie Stabenow (Mich.), Jon Tester (Mont.), Tom Udall (N.M.), Chris Van Hollen (Md.), Mark Warner (Va.), Elizabeth Warren (Mass.), Sheldon Whitehouse (R.I.) and Ron Wyden (Ore.)
Rick Perry (Secretary of Energy)
Yeas from: Tom Carper (Del.), Catherine Cortez Masto (Nev.), Joe Donnelly (Ind.), Heidi Heitkamp (N.D.), Angus King (Maine), Joe Manchin (W. Va.), Claire McCaskill (Mo.), Debbie Stabenow (Mich.), Jon Tester (Mont.), Tom Udall (N.M.) and Mark Warner (Va.)
Nays from: Tammy Baldwin (Wis.), Michael Bennet (Colo.), Richard Blumenthal (Conn.), Cory Booker (N.J.), Sherrod Brown (Ohio), Maria Cantwell (Wash.), Ben Cardin (Md.), Bob Casey (Pa.), Chris Coons (Del.), Tammy Duckworth (Ill.), Dick Durbin (Ill.), Dianne Feinstein (Calif.), Al Franken (Minn.), Kirsten Gillibrand (N.Y.), Kamala Harris (Calif.), Maggie Hassan (N.H.), Martin Heinrich (N.M.), Mazie Hirono (Hawaii), Tim Kaine (Va.), Amy Klobuchar (Minn.), Patrick Leahy (Vt.), Ed Markey (Mass.), Bob Menendez (NJ.), Jeff Merkley (Ore.), Chris Murphy (Conn.), Patty Murray (Wash.), Bill Nelson (Fla.), Gary Peters (Mich.), Jack Reed (R.I.), Bernie Sanders (Vt.), Brian Schatz (Hawaii), Chuck Schumer (N.Y.), Jeanne Shaheen (N.H.), Chris Van Hollen (Md.), Elizabeth Warren (Mass.), Sheldon Whitehouse (R.I.) and Ron Wyden (Ore.)
Mike Pompeo (CIA Director)
Yeas from: Joe Donnelly (Ind.), Dianne Feinstein (Calif.), Maggie Hassan (N.H.), Heidi Heitkamp (N.D.), Tim Kaine (Va.), Angus King (Maine), Amy Klobuchar (Minn.), Joe Manchin (W. Va.), Claire McCaskill (Mo.), Jack Reed (R.I.), Brian Schatz (Hawaii), Chuck Schumer (N.Y.), Jeanne Shaheen (N.H.), Mark Warner (Va.) and Sheldon Whitehouse (R.I.)
Nays from: Tammy Baldwin (Wis.), Michael Bennet (Colo.), Cory Booker (N.J.), Sherrod Brown (Ohio), Maria Cantwell (Wash.), Ben Cardin (Md.), Tom Carper (Del.), Bob Casey (Pa.), Chris Coons (Del.), Catherine Cortez Masto (Nev.), Tammy Duckworth (Ill.), Dick Durbin (Ill.), Al Franken (Minn.), Kirsten Gillibrand (N.Y.), Kamala Harris (Calif.), Martin Heinrich (N.M.), Mazie Hirono (Hawaii), Patrick Leahy (Vt.), Ed Markey (Mass.), Bob Menendez (NJ.), Jeff Merkley (Ore.), Chris Murphy (Conn.), Patty Murray (Wash.), Bill Nelson (Fla.), Gary Peters (Mich.), Bernie Sanders (Vt.), Debbie Stabenow (Mich.), Jon Tester (Mont.), Tom Udall (N.M.), Chris Van Hollen (Md.), Elizabeth Warren (Mass.) and Ron Wyden (Ore.)
Abstain from: Richard Blumenthal (Conn.), Chris Murphy (Conn.)
Tom Price (Secretary of Health and Human Services)
Yeas from: No one
Nays from: Tammy Baldwin (Wis.), Michael Bennet (Colo.), Richard Blumenthal (Conn.), Cory Booker (N.J.), Sherrod Brown (Ohio), Maria Cantwell (Wash.), Ben Cardin (Md.), Tom Carper (Del.), Bob Casey (Pa.), Chris Coons (Del.), Catherine Cortez Masto (Nev.), Joe Donnelly (Ind.), Tammy Duckworth (Ill.), Dick Durbin (Ill.), Dianne Feinstein (Calif.), Al Franken (Minn.), Kirsten Gillibrand (N.Y.), Kamala Harris (Calif.), Maggie Hassan (N.H.), Martin Heinrich (N.M.), Heidi Heitkamp (N.D.), Mazie Hirono (Hawaii), Tim Kaine (Va.), Angus King (Maine), Amy Klobuchar (Minn.), Patrick Leahy (Vt.), Joe Manchin (W. Va.), Ed Markey (Mass.), Bob Menendez (NJ.), Jeff Merkley (Ore.), Chris Murphy (Conn.), Patty Murray (Wash.), Bill Nelson (Fla.), Gary Peters (Mich.), Jack Reed (R.I.), Bernie Sanders (Vt.), Brian Schatz (Hawaii), Chuck Schumer (N.Y.), Jeanne Shaheen (N.H.), Debbie Stabenow (Mich.), Jon Tester (Mont.), Tom Udall (N.M.), Chris Van Hollen (Md.), Mark Warner (Va.), Elizabeth Warren (Mass.), Sheldon Whitehouse (R.I.) and Ron Wyden (Ore.)
Not present: Claire McCaskill (Mo.) [Family matter]
Scott Pruitt (EPA)
Yeas from: Heidi Heitkamp (N.D.) and Joe Manchin (W. Va.)
Nays from: Tammy Baldwin (Wis.), Michael Bennet (Colo.), Richard Blumenthal (Conn.), Cory Booker (N.J.), Sherrod Brown (Ohio), Maria Cantwell (Wash.), Ben Cardin (Md.), Tom Carper (Del.), Bob Casey (Pa.), Chris Coons (Del.), Catherine Cortez Masto (Nev.), Tammy Duckworth (Ill.), Dick Durbin (Ill.), Dianne Feinstein (Calif.), Al Franken (Minn.), Kirsten Gillibrand (N.Y.), Kamala Harris (Calif.), Maggie Hassan (N.H.), Martin Heinrich (N.M.), Mazie Hirono (Hawaii), Tim Kaine (Va.), Angus King (Maine), Amy Klobuchar (Minn.), Patrick Leahy (Vt.), Ed Markey (Mass.), Claire McCaskill (Mo.), Bob Menendez (NJ.), Jeff Merkley (Ore.), Chris Murphy (Conn.), Patty Murray (Wash.), Bill Nelson (Fla.), Gary Peters (Mich.), Jack Reed (R.I.), Bernie Sanders (Vt.), Brian Schatz (Hawaii), Chuck Schumer (N.Y.), Jeanne Shaheen (N.H.), Debbie Stabenow (Mich.), Jon Tester (Mont.), Tom Udall (N.M.), Chris Van Hollen (Md.), Mark Warner (Va.), Elizabeth Warren (Mass.), Sheldon Whitehouse (R.I.) and Ron Wyden (Ore.) [Susan Collins (R-Maine) also voted in the negative]
Not voting: Joe Donnelly (D-Ind.) and John McCain (R-Ariz.)
Wilbur Ross (Secretary of Commerce)
Yeas from: Michael Bennet (Colo.), Sherrod Brown (Ohio), Tom Carper (Del.), Bob Casey (Pa.), Chris Coons (Del.), Catherine Cortez Masto (Nev.), Joe Donnelly (D-Ind.), Tammy Duckworth (D-Ill.), Dianne Feinstein (Calif.), Maggie Hassan (N.H.), Heidi Heitkamp (D-N.D.), Tim Kaine (D-Va.), Angus King (Maine), Amy Klobuchar (Minn.), Claire McCaskill (Mo.), Bill Nelson (Fla.), Gary Peters (Mich.), Brian Schatz (Hawaii), Jeanne Shaheen (N.H.), Jon Tester (Mont.) and Mark Warner (Va.)
Nays from: Tammy Baldwin (Wisc.), Richard Blumenthal (Conn.), Cory Booker (N.J.), Maria Cantwell (Wash.), Ben Cardin (Md.), Dick Durbin (Ill.), Al Franken (Minn.), Kirsten Gillibrand (N.Y.), Kamala Harris (Calif.), Martin Heinrich (N.M.), Mazie Hirono (Hawaii), Patrick Leahy (Vt.), Joe Manchin (W. Va.), Ed Markey (Mass.), Bob Menendez (NJ.), Jeff Merkley (Ore.), Chris Murphy (Conn.), Patty Murray (Wash.), Jack Reed (R.I.), Bernie Sanders (Vt.), Chuck Schumer (N.Y.), Debbie Stabenow (Mich.), Tom Udall (N.M.), Chris Van Hollen (Md.), Elizabeth Warren (Mass.), Sheldon Whitehouse (R.I.) and Ron Wyden (Ore.)
Jeff Sessions (Attorney General)
Yeas from: Joe Manchin (W. Va.)
Nays from: Tammy Baldwin (Wis.), Michael Bennet (Colo.), Richard Blumenthal (Conn.), Cory Booker (N.J.), Sherrod Brown (Ohio), Maria Cantwell (Wash.), Ben Cardin (Md.), Tom Carper (Del.), Bob Casey (Pa.), Chris Coons (Del.), Catherine Cortez Masto (Nev.), Joe Donnelly (Ind.), Tammy Duckworth (Ill.), Dick Durbin (Ill.), Dianne Feinstein (Calif.), Al Franken (Minn.), Kirsten Gillibrand (N.Y.), Kamala Harris (Calif.), Maggie Hassan (N.H.), Martin Heinrich (N.M.), Heidi Heitkamp (N.D.), Mazie Hirono (Hawaii), Tim Kaine (Va.), Angus King (Maine), Amy Klobuchar (Minn.), Patrick Leahy (Vt.), Ed Markey (Mass.), Claire McCaskill (Mo.), Bob Menendez (NJ.), Jeff Merkley (Ore.), Chris Murphy (Conn.), Patty Murray (Wash.), Bill Nelson (Fla.), Gary Peters (Mich.), Jack Reed (R.I.), Bernie Sanders (Vt.), Brian Schatz (Hawaii), Chuck Schumer (N.Y.), Jeanne Shaheen (N.H.), Debbie Stabenow (Mich.), Jon Tester (Mont.), Tom Udall (N.M.), Chris Van Hollen (Md.), Mark Warner (Va.), Elizabeth Warren (Mass.), Sheldon Whitehouse (R.I.) and Ron Wyden (Ore.)
David Shulkin (Secretary of Veterans Affairs)
Yeas from: All Democrats
Nays from: No one
Rex Tillerson (Secretary of State)
Yeas from: Heidi Heitkamp (N.D.), Angus King (Maine), Joe Manchin (W. Va.) and Mark Warner (Va.)
Nays from: Tammy Baldwin (Wis.), Michael Bennet (Colo.), Richard Blumenthal (Conn.), Cory Booker (N.J.), Sherrod Brown (Ohio), Maria Cantwell (Wash.), Ben Cardin (Md.), Tom Carper (Del.), Bob Casey (Pa.), Catherine Cortez Masto (Nev.), Joe Donnelly (Ind.), Tammy Duckworth (Ill.), Dick Durbin (Ill.), Dianne Feinstein (Calif.), Al Franken (Minn.), Kirsten Gillibrand (N.Y.), Kamala Harris (Calif.), Maggie Hassan (N.H.), Martin Heinrich (N.M.), Mazie Hirono (Hawaii), Tim Kaine (Va.), Amy Klobuchar (Minn.), Patrick Leahy (Vt.), Ed Markey (Mass.), Claire McCaskill (Mo.), Bob Menendez (NJ.), Jeff Merkley (Ore.), Patty Murray (Wash.), Chris Murphy (Conn.), Bill Nelson (Fla.), Gary Peters (Mich.), Jack Reed (R.I.), Bernie Sanders (Vt.), Brian Schatz (Hawaii), Chuck Schumer (N.Y.), Jeanne Shaheen (N.H.), Debbie Stabenow (Mich.), Jon Tester (Mont.), Tom Udall (N.M.), Chris Van Hollen (Md.), Elizabeth Warren (Mass.), Sheldon Whitehouse (R.I.) and Ron Wyden (Ore.)
Abstain from: Chris Coons (Del.)
Ryan Zinke (Secretary of the Interior)
Yeas from: Michael Bennet (Colo.), Sherrod Brown (Ohio), Chris Coons (Del.), Catherine Cortez Masto (Nev.), Joe Donnelly (Ind.), Martin Heinrich (N.M.), Heidi Heitkamp (N.D.), Tim Kaine (Va.), Angus King (Maine), Joe Manchin (W. Va.), Claire McCaskill (Mo.), Chris Murphy (Conn.), Bill Nelson (Fla.), Jon Tester (Mont.), Tom Udall (N.M.), Mark Warner (Va.) and Ron Wyden (Ore.)
Nays from: Tammy Baldwin (Wis.), Richard Blumenthal (Conn.), Cory Booker (N.J.), Maria Cantwell (Wash.), Ben Cardin (Md.), Tom Carper (Del.), Bob Casey (Pa.), Tammy Duckworth (Ill.), Dick Durbin (Ill.), Dianne Feinstein (Calif.), Al Franken (Minn.), Kirsten Gillibrand (N.Y.), Kamala Harris (Calif.), Maggie Hassan (N.H.), Mazie Hirono (Hawaii), Amy Klobuchar (Minn.), Patrick Leahy (Vt.), Ed Markey (Mass.), Bob Menendez (NJ.), Jeff Merkley (Ore.), Patty Murray (Wash.), Gary Peters (Mich.), Jack Reed (R.I.), Bernie Sanders (Vt.), Brian Schatz (Hawaii), Chuck Schumer (N.Y.), Jeanne Shaheen (N.H.), Debbie Stabenow (Mich.), Chris Van Hollen (Md.), Elizabeth Warren (Mass.) and Sheldon Whitehouse (R.I.)