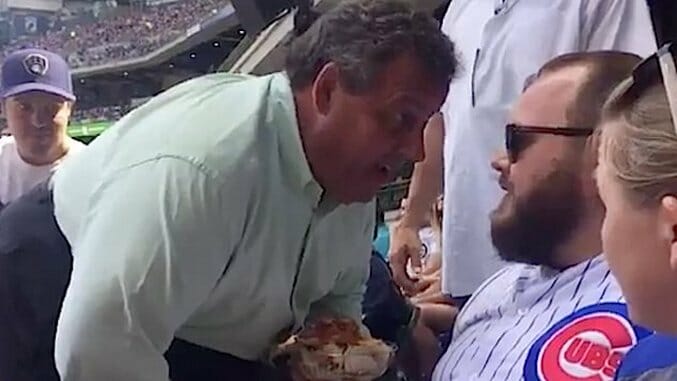 We don't have much backstory on this, but former New Jersey governor Chris Christie, who got fired from his job as Donald Trump's lackey because he offered the president a filthy germ-ridden cell phone (or something), took umbrage at being heckled at a Cubs-Brewers game. Watch:
At #Cubs#Brewers game. #ChrisChristie was getting razzed by fans, so he got in the face of one of them. 5:30 on @WISN12Newspic.twitter.com/sx8euMgFy2

— Ben Hutchison (@BennyHutch) July 30, 2017
"You want to act like a big shot? You're a big shot." says Christie, while leaning into the man's face.
"I appreciate that," the man says, as Christie walks away.
Hilariously, Christie is holding a giant bowl of what looks like nachos as he confronts his heckler.
Here's what we know of the interaction, via the Washington Post:
He was proceeding down steps with a bowl of nachos when the Cubs fan Brad Joseph expressed the opinion "that he sucked," Joseph told WISN reporter Ben Hutchinson, who happens to be his cousin and caught the end of the conversation on video.
"When he initially was going up the stairs I yelled his name. He was already quite a bit past me, and 30 feet away I yelled his name and told him that he sucked. … I called him a hypocrite because I thought it needed to be said," Joseph told Hutchinson. "He then turned around and walked all the way back towards me and got up in my face for what seemed like a long time, but was probably only about 30 seconds or a minute."
According to Joseph, Christie's knee made contact with him and he asked Joseph if he wanted to "start something."
"[He] was yelling at me. First he told me, 'Why don't you have another beer?' which I thought was a decent comeback, and I thought that was kind of funny," Joseph said. "Then he started calling me a tough guy."
Also hilarious? This tweet:
I knew that exact posture and proximity looked familiar. pic.twitter.com/nQrLZkKMd7

— Amos Posner (@AmosPosner) July 31, 2017
I'm no PR expert, but maybe Chris Christie should stop going to baseball games. Or, really, enjoying any leisure activity.