Bernie Sanders Doesn't Think Joe Biden Stands a Chance Against Trump in the Rust Belt
Photos via Drew Angerer/Getty, Getty Images
Politics
News
Bernie Sanders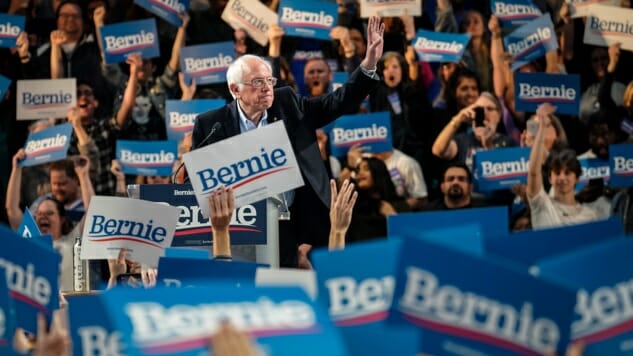 After Joe Biden's landslide victory in South Carolina, and recent endorsements by former presidential hopefuls Pete Buttigieg, Amy Klobuchar and Beto O'Rourke, many believe that the former vice president might have a very real shot at the nomination.
But Bernie Sanders, the current Democratic frontrunner who won the popular vote in Iowa, New Hampshire and Nevada, warns that Biden won't win crucial rest belt states if he goes head to head with Donald Trump, especially over issues like NAFTA.
"What do you think Trump will do with him in Michigan and Pennsylvania and Wisconsin?" Sanders said to the San Francisco Chronicle in an interview on Sunday. "He'll decimate him on that issue."
Sander also emphasized the importance of an enthusiastic voter base when it comes to defeating Trump, which really hasn't been seen with Biden supporters.
"Democrats win elections when voter turnout is high," he said. "Does anyone really think that a Biden candidacy will create the kind of energy and excitement we need to significantly increase the voter turnout?"
Let's face it—there have been a lot of Democratic hopefuls in the race so far, many really firing up prospective voters to join their base: Kamala, Yang and his gang, even Pete-ple. But who out here is really excited by the prospects of a Biden presidency?
If you ask Biden, he feels the same way about Sanders, saying last week that Sanders was "not likely" to encourage a record Democratic turnout. Meanwhile, Sanders believes that even if he does arrive at the convention without a majority of delegates that the Democratic National Committee might block his nomination, especially considering the fact that he would bring on a running mate who also believes in Medicare for All.
"I think that would look terrible, and I think that would lay the groundwork for a Trump victory," said Sanders of the hypothetical scenario. "It would reflect on the Democratic Party in a very, very terrible way."
Last week, the New York Times interviewed Democratic superdelegates, many seeming unwilling to declare Sanders the Democratic nominee if he does not have the necessary number of delegates.
Whether Sanders performs well during Super Tuesday or not, it appears that the DNC is trying to work any angle to shut him out as nominee, with many rallying behind Biden.