Bernie Sanders Is the First Candidate of Any Party to Win All Three Early Voting States in a Competitive Primary
Photos by Matthew Cavanaugh/Getty, Drew Angerer/Getty
Politics
News
Bernie Sanders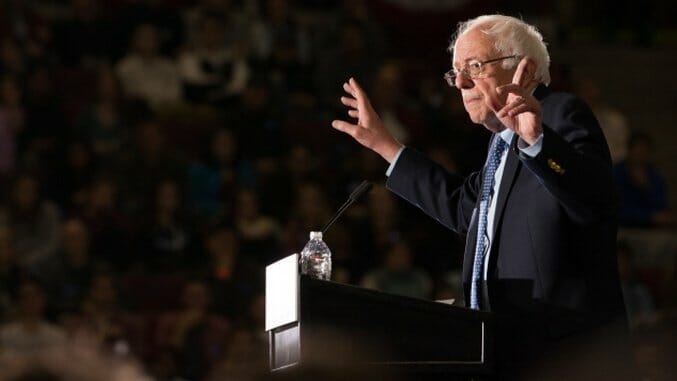 Senator Bernie Sanders' landslide win in the Nevada Caucus on Saturday and his previous popular vote wins in the New Hampshire and Iowa caucuses speak for themselves when it comes to Sanders' fervent and solid voter base. But the implication of his wins has an even wider scope, as Sanders is the first candidate from any political party to win all three early voting states in a competitive primary in this nation's history.
"In Nevada, we have just put together a multigenerational, multiracial coalition, which is going to not only win in Nevada—it's going to sweep this country," said Sanders at a rally in San Antonio, Texas, upon winning the Nevada caucus. "No campaign has a grassroots movement like we do, which is another reason why we're going to win this election."
Former vice president Al Gore's campaign for the 2000 presidential election also saw him clinch Iowa, New Hampshire and Delaware caucuses; however, he only faced one opponent, New Jersey senator Bill Bradley. As Sanders currently has six other competitors, his landslide win in Nevada was especially encouraging, as Sanders captured 46% of the vote, more than the votes tallied for Buttigieg, Biden and Warren combined.
Sanders' previous presidential bid in 2016 had him running against Hillary Clinton, who won Iowa and Nevada while Sanders held onto New Hampshire, which borders his constituency of Vermont.
It is worth mentioning that Sanders technically did not win overall in Iowa, only beating Buttigieg in the popular vote, whereas the former mayor of South Bend, Ind., technically won when it came to delegates, edging out Sanders. However, Sanders leads in delegates overall, with 31 delegates pledged to the Vermont senator. Buttigieg follows closely behind with 22, followed by Massachusetts senator Elizabeth Warren with eight.
The next caucus will be held in South Carolina on Saturday, Feb. 29, with Sanders and Biden projected to be neck-and-neck.