There is Now a GoFundMe Campaign to Give Ann Coulter More Leg Room on Delta (Just Don't Call it Welfare)
Photo by Chip Somodevilla/Getty
Politics
News
Ann Coulter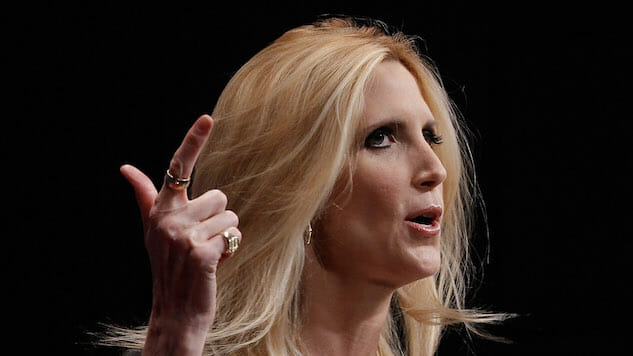 After Ann Coulter's ghastly encounter with a Delta flight that forced her to give up her extra roomy seat, the conservative commentator—much like her favorite president—took to Twitter to air her many grievances.
.@Delta didn't give my extra room seat to an air marshall or tall person. Here's the woman given my PRE-BOOKED seat: pic.twitter.com/iDNB8xXXOd

— Ann Coulter (@AnnCoulter) July 15, 2017
Hey @Delta, if it was so important for the dachshund-legged woman to take my seat, she should have BOOKED THE SEAT IN ADVANCE. Like I did.

— Ann Coulter (@AnnCoulter) July 16, 2017
Delta, for their part, offered to assuage the pain of Coulter's personal hell by refunding her the $30 extra she'd paid to stretch out her lengthy limbs.
@AnnCoulter We're sorry you did not receive the preferred seat you paid for and will refund your $30. (cont.)

— Delta (@Delta) July 16, 2017
Although they still weren't exactly fans of her conduct.
@AnnCoulter Additionally, your insults about our other customers and employees are unacceptable and unnecessary.

— Delta (@Delta) July 16, 2017
But it's not just Delta that's helping Coulter out. Thanks to a recent GoFundMe campaign titled "Ann Coulter needs leg room", she'll now be able to receive help directly from honest, hard-working Americans. The page promises to help the woman who was almost treated as if, "She was a common poor." As of this writing, the campaign is only halfway to its $30 goal, but if we, as Americans want to ensure that no rich white lady, no matter how racist, has to endure the pain and shame of sitting in a normal airline seat, then, please, give now.
Let's make American leg room roomy again. Well, not American Airlines, necessarily. Just Delta in this case. You get it.