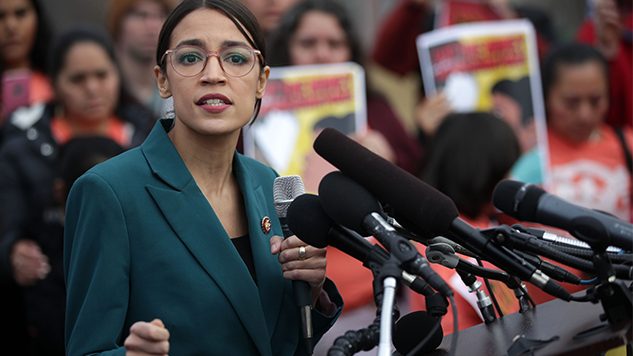 In case you missed it, Rep. Alexandria Ocasio-Cortez announced via Twitter that she would be shelving any plans to travel to Israel until such time as the country reverses its decision to ban Reps. Ilhan Omar and Rashida Tlaib from entry. Saying that "visiting Israel & Palestine are key experiences toward a path to peace," AOC made an argument that although Omar and Tlaib have been critical of the country's policies, they should still be allowed to visit in order to conduct diplomacy.
Netanyahu's discriminatory decision to ban members of Congress from Israel harms int'l diplomacy.

Visiting Israel & Palestine are key experiences towards a path to peace.

Sadly, I cannot move forward w scheduling any visits to Israel until all members of Congress are allowed. https://t.co/WTP5vnt5IH

— Alexandria Ocasio-Cortez (@AOC) August 15, 2019
Israel announced last week that they would be banning supporters of the Boycott, Divestment and Sanctions campaign (otherwise known as BDS), which Palestine leads against the country, from entering Israel. Omar and Tlaib have stated their support for the campaign, which has stated goals of promoting boycotts and sanctions against Israel until various demands revolving around the occupied territories and West Bank are met. The two junior congresswomen, well known as members of "The Squad" of first-term, progressive congresswomen of color, are the only two members of Congress who have voiced their direct, personal support for BDS, but 14 other House Democrats did vote against a symbolic resolution in the House of Representatives last month that was meant to condemn BDS. Ocasio-Cortez, likewise, is a co-sponsor of Omar's resolution that provides defense of Americans' right to participate in BDS boycotts.
Congressional delegations often visit Israel and the West Bank, although the visits are more often (unsurprisingly) conducted by pro-Israel representatives, as they are usually being organized by pro-Israel lobby AIPAC. Just earlier this month, more than 40 House Democrats participated in one of these very trips, although the likes of Ocasio-Cortez, Omar and Tlaib were clearly not in attendance. It's hard to imagine that Israel would change its stance now in an effort to appeal to a Congressperson like AOC, but the move does allow Ocasio-Cortez to symbolically stand alongside members of The Squad once more.