Supreme Court Compromises on Mike Pence's Abortion Law
Photo by Win McNamee/Getty
Politics
News
Abortion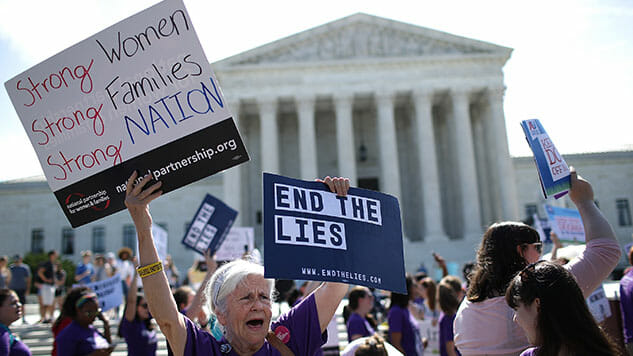 The Supreme Court dodged weighing in on Roe v. Wade Tuesday with their mixed decision on a strict Indiana abortion law.
The law would prohibit abortions sought solely because of the fetus' race, sex, national origin or diagnosis of a disability. In a separate clause, the same law would mandate that miscarried or aborted fetuses be buried or cremated, as other human remains are.
The measures were signed into law by then-Gov. Mike Pence, who said at the time that the "comprehensive pro-life measure" would "will ensure the dignified final treatment of the unborn."
The Supreme Court upheld the Seventh Circuit Court of Appeals' decision to overturn the ban on elective abortions. But in an apparent compromise, they overruled the lower court's striking of the fetus burial clause.
In their unsigned decision, the Court affirmed that state governments have a legitimate interest "in the proper disposal of fetal remains," citing precedent from 1983. The Court also concluded that fetal burial does not constitute an "undue burden" on a woman's right to an abortion.
In a long concurring opinion—almost seven times longer than the decision itself—Justice Clarence Thomas tied abortion to the racist eugenics movement of the early 20th century, stating that the Indiana law prevents "abortion from becoming a tool of modern-day Eugenics."
Justices Sonia Sotomayor and Ruth Bader Ginsburg clarified in separate dissenting opinions that they would have upheld the lower court's overturning of both abortion measures.
The equivocal decision comes after a wave of new state-level abortion restrictions in Georgia, Kentucky and Missouri that aim directly at overturning Roe. Most notorious of them is the Alabama law that would virtually outlaw abortions in the state, and controversially includes no exemptions for pregnancies arising from incest or rape.
While the Supreme Court declined to weigh in on Roe this time, pro-life activists are mounting a coordinated legal campaign that promises to fill their docket with abortion cases for sessions to come. As Thomas writes in his decision, "[a]lthough the Court declines to wade into these issues … today, we cannot avoid them forever."