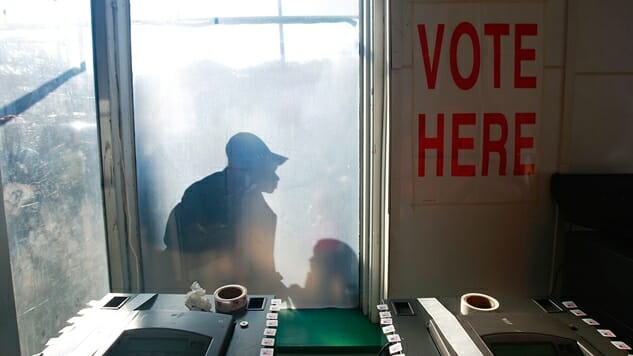 Last week, I detailed how the Republican Party is echoing the Jim Crow era in order to suppress the votes of minorities. Florida and Georgia are having a litany of "issues" registering people to vote, and Georgia is also kicking people off the voter rolls (the man running for governor, Brian Kemp, is Georgia's Secretary of State, and his office has control over all these shenanigans). In Indiana, over 400,000 people—equivalent to a little more than 10% of registered voters in the 2014 midterms—have been kicked off the rolls, and North Dakota is stripping Native Americans of the right to vote because the U.S. Postal Service won't give some of them an address, and Republican legislators have passed a law requiring a physical address in order to vote. Here is an update on where this nonsense stands exactly three weeks from election day.
Kansas
Added 10/22
Access to the ballot box in November will be more difficult for some people in Dodge City, where Hispanics now make up 60 percent of its population and have remade an iconic Wild West town that once was the destination of cowboys and buffalo hunters who frequented the Long Branch Saloon.
…
But the city located 160 miles (257 kilometers) west of Wichita has only one polling site for its 27,000 residents. Since 2002, the lone site was at the civic center just blocks from the local country club — in the wealthy, white part of town. For this November's election, local officials have moved it outside the city limits to a facility more than a mile from the nearest bus stop, citing road construction that blocked the previous site.
…
That single polling site services more than 13,000 voters in the Dodge City area, compared to an average of 1,200 voters per polling site at other locations, said Micah Kubic, executive director of the ACLU in Kansas.
North Carolina
Added, 10/17
The Electoral Integrity Project studies democracies across the world, and they concluded that North Carolina is not a democracy and "not only the worst state in the USA for unfair districting but the worst entity in the world ever analyzed by the Electoral Integrity Project." This is all thanks to Republican rule, and a new law is making the state even less democratic. According to the state board of elections, Over 60% of North Carolinians voted early in 2016, and that will be much more difficult to do now. Per NPR:
North Carolina voters are once again dealing with changes to how the state runs its elections. At a time when early voting is becoming increasingly popular nationwide, a new law passed by the Republican-controlled legislature will result in nearly 20 percent fewer places to cast votes before Election Day.
Democrats say the changes could disproportionately affect African-American voters but some local Republican officials also complain about the changes, arguing they impose too much top-down control on election administration and amount to an unfunded mandate from the state.
Nevada
Nevada is facing scrutiny for purging over 90,000 voters from the rolls (equivalent to about 16% of the 2014 turnout) in a scheme that is clearly orchestrated to target poor and minority voters. Per Law & Crime:
Postcard-style purges work in the following fashion-noted in a previous Law & Crime article about similarly alleged shenanigans in Alabama:
[The state sends] postcards to…voters. The [original] postcards were not forwardable-meaning if a voter moved, the postcard wouldn't follow them to their new address. Postcards that came back as non-deliverable resulted in the state sending a forwardable postcard to the old address.
If the second card was not returned within [a certain time frame], then voters were moved to "inactive" status. As many voting rights advocates have pointed out, such revisions of voter rolls disproportionately impact poor and minority voters-who tend to move around more often than their white and wealthy counterparts.
Georgia
As of this writing, no concrete progress has been made to counter GOP voter suppression efforts in Georgia or Florida. Here's a quick refresher on what's going on, per The Washington Post:
In Georgia, election officials have suspended more than 50,000 applications to register to vote, most of them for black voters, under a rigorous Republican-backed law that requires personal information to exactly match driver's license or Social Security records.
Texas
Supreme Court Chief Justice John Roberts got rid of a crucial plank in the 1965 Voting Rights Act, because "the conditions that originally justified these measures no longer characterize voting in the covered jurisdiction." (Texas is not a "covered jurisdiction" per the VRA, but Georgia, where Brian Kemp is doing all he can to squash the minority vote, certainly is). The Republican Chief Justice of the Supreme Court basically said that racism was not a factor in the GOP's efforts to restrict the vote anymore, and therefore, this crucial law passed to protect the vote of minorities is no longer necessary. Well, enter Texas, who has been purging voters from the rolls nonstop since Roberts' 2013 ruling, and they have escalated their attacks as of late. Per My San Antonio:
More than 2,000 potential voters in Texas had their voters' registration applications unfairly rejected by the Texas Secretary of State, a national advocacy group said Wednesday.
Those voters will be barred from voting on Nov. 6 unless they re-submit updated applications with new signatures on them, according to the Secretary of State's office, which will send affected voters the paperwork by mail. It must be resubmitted to the state within 10 days.
…
Texas election law is not clear as to whether a handwritten signature is necessary. It calls for a voter registration to be "submitted by personal delivery, by mail, or by telephonic facsimile machine" and states that it must be "in writing and signed by the applicant."
Lawyers for Vote.org disagree with the Secretary of State's interpretation and say they "reserve all rights to challenge it."
North Dakota
We'll end with perhaps the most egregious offense, as the other restrictions on voting at least contain the facsimile of legality. Here, this is nothing more than a Jim Crow-era unwinnable-by-design scheme, fully backed by the United States Supreme Court. Per the ACLU:
On Tuesday, the Supreme Court chose to stand by and allow the war against voting to continue. Just a little less than a month before midterm elections that will determine control of Congress, the court decided not to block North Dakota's restrictive voter ID law, which will make it harder for people in that state to cast their ballots.
Republicans in the state legislature insist that the law is needed to prevent voter fraud — despite there being virtually no evidence that such fraud is a problem. Instead, the real effect of their law will be to prevent voters whom they fear from going to the polls and having their say in who represents them.
The voter ID law was introduced just months after Senator Heidi Heitkamp, a Democrat, eked out a narrow upset victory in 2012, winning by less than 3,000 votes. Republican lawmakers responded by passing restrictive voter ID legislation that all but guaranteed that large numbers of Native Americans — who tend to vote Democratic — wouldn't be able to participate in the political process. Specifically, the law requires voters to bring to the polls an ID that displays a "current residential street address" or other supplemental documentation that provides proof of such an address.
It's pretty simple: Republicans win elections when less people vote. The polls right now prove that.
CBS/YOUGOV POLL projects that Democrats win a 226-209 House majority under current turnout assumptions.

BUT in a low-turnout model, Republicans hang on by one seat.https://t.co/D8DDlt96UJpic.twitter.com/NQodzKsBib

— Sahil Kapur (@sahilkapur) October 14, 2018
Make sure you're registered to vote, and vote against this inherently anti-democratic party on November 6th. Whatever is left of our "democracy" depends on it.
Jacob Weindling is a staff writer for Paste politics. Follow him on Twitter at @Jakeweindling.