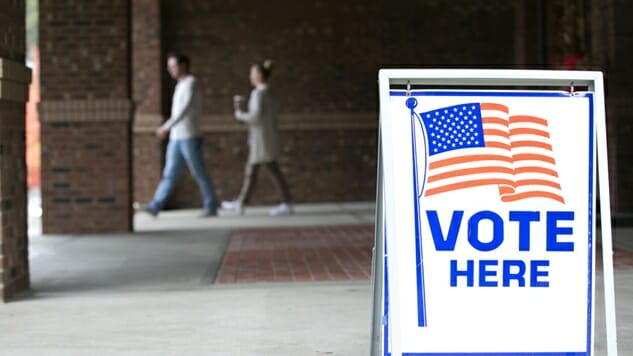 Before we get to the results, I have to point out that exit polls are not affirmative polls. Think of them like painting with broad strokes—they give an impression, but don't have the same detail as scientific polls. That said, the early returns look good for Democrats. Trump's approval rating is reminiscent of Obama's before the 2010 shellacking, and what matters to the electorate are issues the Democrats have been hammering away at all year:
2010 exit poll Q on Obama:

Approve – 45%
Disapprove – 54% https://t.co/ht2xy3EXgh

— Dave Weigel (@daveweigel) November 6, 2018
The most important issue for voters in the NBC News exit poll:

Healthcare: 41%
Immigration: 23%
Economy: 21%
Guns: 11%

— Allan Smith (@akarl_smith) November 6, 2018
#ExitPoll: do you support or oppose stricter gun control measures:

All voters: 60% support, 35% oppose.
Dems: 83% support, 13 oppose
GOP: 30% support, 64 oppose

Thirty percent of GOP support stricter gun control measures. Tide is turning.

— igorvolsky (@igorvolsky) November 6, 2018
Early exit polls: Two-thirds of voters say their vote in today's election is about Donald Trump; a significant 1-in-6 voters say this is the first midterm election they're voting in

— Manu Raju (@mkraju) November 6, 2018
Per CNN's exit poll, 56% of respondents say the country's on the wrong track. And 55% disapprove of Trump.

— Joe Weisenthal (@TheStalwart) November 6, 2018
Voters say they'd rather see the Democrats than the Republicans in control of the House after this election, by 53-43%, per
preliminary exit poll results. https://t.co/QF15MHa8Bu#ElectionDaypic.twitter.com/LK5zMfTfAW

— ABC News (@ABC) November 6, 2018
.@NBCNews Exit Poll finds: There is a gender gap among voters over Justice Kavanaugh's confirmation. https://t.co/dZEdeE2k5tpic.twitter.com/V6F68TCDFr

— NBC News (@NBCNews) November 6, 2018
This one is a siren, and it's ringing for Republicans:
NBC exit poll:
61% of first time voters are voting for Democrats.
This is a big darn dill.

— Bob Cesca (@bobcesca_go) November 6, 2018
There's still plenty of time to go. I began writing this twenty minutes after the first polls started closing on the east coast, so think of this like the first few minutes of a sports game. The early tremors look good, but there's a lot left to play. Fingers crossed, folks.
Jacob Weindling is a staff writer for Paste politics. Follow him on Twitter at @Jakeweindling.