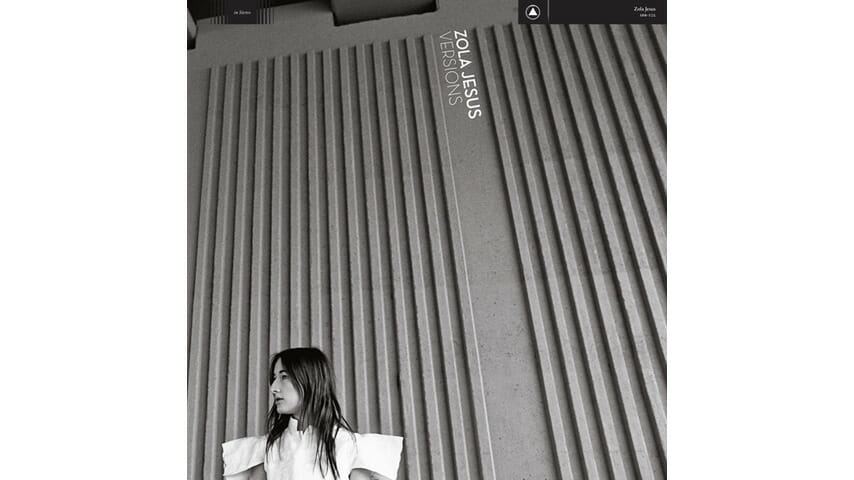 The most startling aspect of Zola Jesus' collaboration with composer/musician J.G. Thirlwell might not be what you expect. The thrill of hearing these electronic compositions arranged for a string quartet is palpable, especially on those tracks that eschew all other instrumentation apart from the Mivos Quartet's two violins, viola and cello. But what truly takes the breath away is hearing Ms. Nika Roza Danilova's voice completely unadorned.
If you've seen Zola Jesus live, you've likely felt the impact of her powerful pipes on your person. But on record, she tends to cover it just so with overlays of reverb and other effects. Or she would mix it way down and let the clatter of her industrial-pop production take precedence. There's nothing for Danilova to hide behind here, and having her so present throughout this album is breathtaking.
Perhaps the best example of this is to compare the original rendition of "Sea Talk" from her 2009 EP Tsar Bomba with the new version found here. Everything about the former—from the programmed drumbeat to Danilova's vocals—feels like it is fighting to be heard through a watery shimmer. The earthbound adaptation that she and Thirlwell came up with for Versions on the other hand pulls everything right to the surface. And having the strings playing the melody as a dulcet waltz while the cleaned-up rhythms clack against it gives the song a new layer of tension that adds even more weight to heartbreaking lines like "Say, 'I'm sick honey and I don't got the money. Do you want a raincheck? 'Cause I can't give you what you need all by myself.'"
The rest of Versions has a similarly dramatic uptick to these newly configured songs. The chorus of "In Your Nature" feels urgent and borderline furious in its new guise; the spritzing synth melody that carries "Collapse" is turned into a mournful lament via Thirlwell's arrangement; "Hikikomori" becomes a heart-racing movie soundtrack instead of a sexy dancefloor swinger.
Through it all, Danilova is given a clear path to cut right through to the core of each song, and, as a byproduct, the heart of the listener. You can hear the effect that her training in opera has had as each spine-tingling note holds straight and true. Perhaps this is a precursor to a more direct approach to the production of future Zola Jesus recordings. If not, Versions will always be there to brush the haze aside for a little while.