Yeah Yeah Yeahs Cover Big Star's "Thirteen": Listen
Karen O and Co. also recorded a new version of their own beloved ballad, "Maps."
Photo: Getty Images
Music
News
Yeah Yeah Yeahs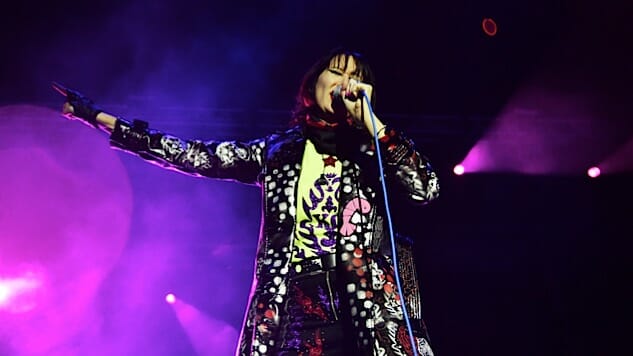 After a nearly five-year hiatus from touring and recording, Yeah Yeah Yeahs are slowly getting the machine running again, with a headlining slot at New York's Governor's Ball coming up in June and a couple of shows on the books with LCD Soundsystem. On Wednesday they kept up the momentum with a couple of recordings over at Spotify as part of the service's Singles series, as Stereogum points out.
Karen O and Co. recorded two revered love songs: "Maps," from their own 2003 debut LP Fever to Tell, and a cover of the beloved Big Star ballad "Thirteen," from 1972's #1 Record. They take the latter slow, offering a quiet, faithful version of the song, complete with delicate solo.
Read: Big Star, the Great Forgotten American Band, Is Bigger Than Ever
You can find those songs below. Also, check out St. Vincent's recent cover of SZA and Rihanna's "Consideration" here, and Beck's take on The Velvet Underground's "I'm Waiting for the Man" here, both of which sprang from Spotify series.