Daily Dose: Yeah Yeah Yeahs, "Shake It"
The New York trio is rereleasing "Fever to Tell" on vinyl, plus some deluxe goodies.
Music
Features
Yeah Yeah Yeahs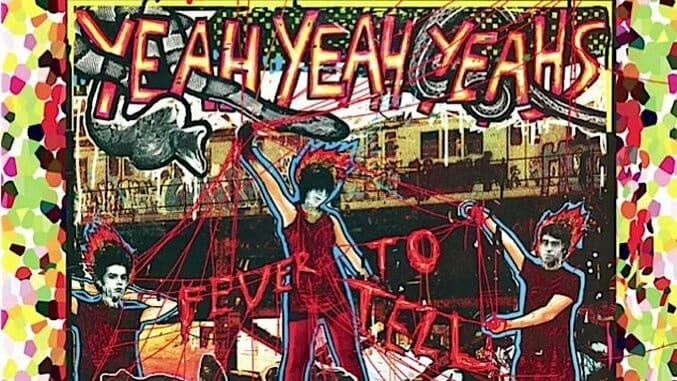 Daily Dose is your daily source for the song you absolutely, positively need to hear every day. Curated by the Paste Music Team.
On Monday, Yeah Yeah Yeahs released "Phone Jam" a previously unheard 2002 demo that had been part of the sessions from their 2003 album, Fever to Tell. The song came with a Twitter post that teased "tomorrow" for some info on a possible reissue of the album.
Now the New York trio have dropped another unreleased Fever to Tell track, the crawling "Shake It," and announced that the album will indeed be rereleased on vinyl for the first time in 10 years and as part of a limited-edition box set that includes "a time capsule of photos, demos (first ever recorded), a mini film documentary," and other memorabilia. You can find those goodies here ahead of an Oct. 20 release date. Check out the tracklist for the deluxe edition of the album at the bottom of this post.
#FeverToTell is BACK on wax ???????? Preorder now, in your hands / hard drives Oct 20. https://t.co/AIgoM7smt0pic.twitter.com/8EqqgPEaOa

— Yeah Yeah Yeahs (@YYYs) September 26, 2017
The Yeah Yeah Yeahs also shared some info on upcoming live shows, which will be their first in four years. On Twitter, they posted photos of the Fonda Theatre in Los Angeles with the date of Oct. 25 listed on the marquee along with the lyric "Wait they don't love you like I love you," from Fever to Tell's "Maps," and another of the Kings Theatre in Brooklyn with the date of Nov. 7 and "Date With the Night" on the marquee.
Listen to the excellent "Shake It" below, and get excited for the return of one of the greatest bands of the 21st century.
Fever to Tell deluxe edition tracklist:
1. "Rich"
2. "Date With The Night"
3. "Man"
4. "Tick"
5. "Black Tongue"
6. "Pin"
7. "Cold Light"
8. "No No No"
9. "Maps"
10. "Y Control"
11. "Modern Romance"
12. "Poor Song"
Bonus Disc:
1. "Date With The Night (Four Track Demo)"
2. "Black Tongue (Four Track Demo)"
3. "Pin (Four Track Demo)"
4. "Maps (Early Four Track Demo)"
5. "Poor Song (Four Track Demo)"
6. "Tick (Four Track Demo)"
7. "Shot Down (Four Track Demo)"
8. "Ooh Ooh Ooh (Four Track Demo)"
9. "Maps (Four Track Demo)"
10. "Shake It"
11. "Machine"
12. "Modern Things"
13. "Graveyard"
14. "Shot Down"
15. "Yeah! New York"
16. "Boogers"
17. "Countdown"