Watch Wye Oak Perform "The Instrument" Live in the Middle of a Forest
"The Instrument" is the first in a series of live videos set to release throughout the week
Image via Merge Records
Music
News
Wye Oak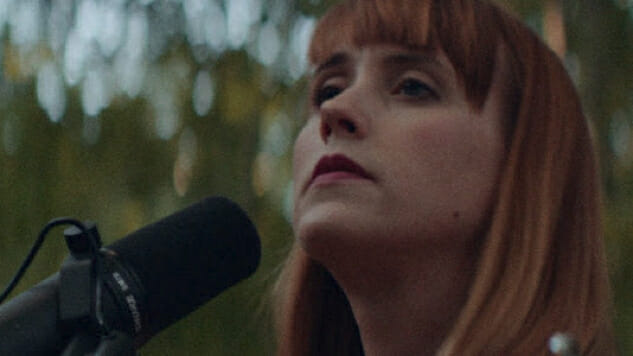 Wye Oak have shared a live rendition of "The Instrument," the first in a series of live videos set to release throughout the week. "The Instrument" is off the band's most recent album, The Louder I Call, The Faster It Runs, out now through Merge Records.
"The Instrument" benefits from a wider sound and lead singer Jenn Wasner's natural, unfiltered voice. Gone are the blipping, twittering synths of the original, along with the chorus effect that drenched Wasner's vocals. It feels right for a song recorded in the middle of a forest—no tricks, no extra tools. Just Wye Oak's instruments, their voices, and plenty of room to breathe.
Room to breathe is something that Wasner says she and the band prioritized in recording these live versions. "Releasing a record is an absolute whirlwind of activity … it can be difficult to find a moment to breathe," she said in a statement. "This summer we tried to carve out some time to sit and peacefully reflect on this thing we've made—and these videos, captured in the late-summer woods near our home in North Carolina, are the result."
Watch "The Instrument" (dir. Josh Sliffe) and Wye Oak's 2010 performance at the Paste office below, and find their tour dates further down. The band's live "It Was Not Natural" and "The Louder I Call, the Faster It Runs" videos are up next.
Wye Oak Tour Dates:
November
07 – Nashville, Tenn. @ The Basement East
09 – Dallas, Texas @ Deep Ellum Art Co.
10 – Austin, Texas @ The Parish
11 – Houston, Texas @ Rockefeller's
12 – New Orleans, La. @ One Eyed Jacks
14 – Atlanta, Ga. @ The Earl
15 – Charlotte, N.C. @ Side Stage @ The Neighborhood
16 – Richmond, Va. @ The Broadberry
17 – Baltimore, Md. @ Ottobar
18 – Baltimore, Md. @ Ottobar [SOLD OUT]