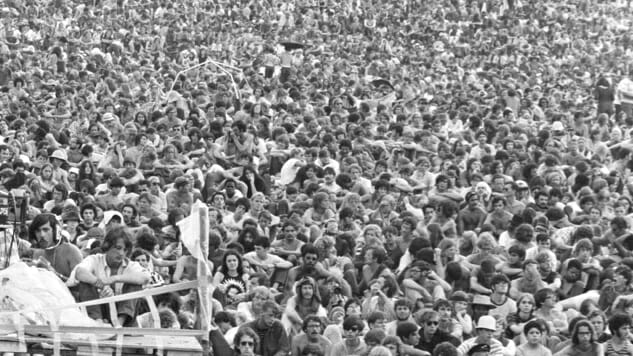 Fifty years ago, 32 of the most famous and influential musicians of their time came together in Bethel, N.Y. for a weekend that changed music forever. Yes, it was rain-soaked and incredibly muddy. Yes, there weren't nearly enough bathrooms. But for the more than 400,000 attendees who showed up, Woodstock was the event of a lifetime, an instantly-iconic concert that defined what we now think of as "The Sixties."
The festival's bill included some of the biggest names in rock and folk music history: Jimi Hendrix, The Who, Grateful Dead, Creedence Clearwater Revival, Janis Joplin, Joan Baez, Sly and the Family Stone, Jefferson Airplane and countless others. But for every major act at Woodstock, there were a handful that were relatively lost in the annals of music history, artists who never quite capitalized on the chance to play the most famous music festival of all time. Every festival needs an undercard, after all.
With today's release of Woodstock – Back To The Garden: The Definitive 50th Anniversary Archive, which features every single recorded moment from that weekend half a century ago, we decided to highlight those musicians who are largely forgotten 50 years later. Some may have burned out quickly while others maintained a successful career, but all can legitimately say that they too played Woodstock.
Bert Sommer
Bert Sommer was perhaps the most obscure artist to perform at Woodstock, and one of the few artists whose career didn't take off afterwards. Sommer's first album The Road to Travel was produced by Artie Kornfeld, vice president of Capitol Records, who later became the music promoter for Woodstock. Evidently, Kornfeld believed in the talent of this young, virtually unknown folk singer/songwriter because their friendship led to the gig of Sommer's life at Woodstock (as demonstrated by Sommer's soul-stirring performance of "Jennifer"). Sommer previously worked with bands like The Left Banke and The Vagrants, and was also an avid actor, landing the role of "Woof" in the musical Hair. None of Sommer's albums performed well commercially (despite another record produced by Kornfeld), but he continued to act and perform music until his death in 1990. —Lizzie Manno
The Incredible String Band
Quirky British folksters The Incredible String Band were paid $4500 to play at Woodstock, and it still may not have been worth their troubles. They were originally scheduled to perform on Friday, along with all the other acoustic fellas, but that was also the same day rain poured down on the grounds in Bethel, N.Y., and the band flat-out refused to play. So singer Melanie got their slot, and they performed their Woodstock set the next day, right smack in the middle of all the rock acts. So funnily enough, the festival crowd didn't really appreciate this gentle, amicable set. But the group still built up a fanbase not long after this, and several of its members, including Robin Williamson, went on to have successful solo careers. —Ellen Johnson
John B. Sebastian
John B. Sebastian was a massive star in the mid-to-late '60s as the lead singer of The Lovin' Spoonful, but largely failed to maintain that level of fame after going solo following his split from the band in 1968. Sebastian actually wasn't on the bill at Woodstock, instead attending as a regular concertgoer, but when large amounts of rain made it impossible to set up Santana's amps onstage, the organizers needed an acoustic act to fill the time, and Sebastian stepped up despite having allegedly taken acid before. His self-titled solo debut was still a few months away, but he played three cuts from it, as well as two Lovin' Spoonful tracks. Sebastian's solo career never quite took off in the same way as his former band, though he scored an unexpected #1 hit in 1968 with "Welcome Back," a song that would later be sampled in Mase's 2004 comeback single of the same name. —Steven Edelstone
The Keef Hartley Band
English drummer Keef Hartley learned the ropes from the same teacher who taught Phil Collins, but he never broke out the way his peer did. The Keef Hartley Band's Woodstock set was the first audio they ever recorded, and the Back To The Garden box set marks the first time anyone will hear it outside those who were at the actual festival in 1969. What's even more interesting? Until now, they were the only Woodstock band whose performance hadn't been heard by the public. Now it can finally be heard by all in all its tumbling, gritty glory. —Ellen Johnson
Melanie
One of only three women to play Woodstock, Melanie wasn't even originally on the bill, filling in late on Friday night as The Incredible String Band declined to play in the rain. Relatively unknown prior to her Woodstock appearance, Melanie performed her entire folk-inspired set solo with her acoustic guitar. That performance eventually led to her 1970 #6 hit "Lay Down (Candles in the Rain)," inspired by the life-changing experience of playing Woodstock. The Queens-born musician had a successful next half-decade, releasing two gold records and a gold single with "Brand New Key," plus a huge cover of The Rolling Stones' "Ruby Tuesday." After 1974, however, she couldn't reclaim her early career success, despite the music media regularly singing her high praises. She won an Emmy in 1989 for writing the theme song for a TV series adaptation of Beauty and the Beast. —Steven Edelstone
Mountain
Heavy metal influencers Mountain were already broken up within four years of Woodstock, so this set is something of a pinnacle in the first wave of their career (their reunions have been frequent: some members got back together in the early '80s, then again in the '90s and again in the 2000s). Their set sounds like the perfect combination of early jam music and modern metal, with an occasional flourish of the blues. With their latest reunion as recent as 2009, Mountain aren't necessarily forgotten, but this dynamic set doesn't often get the attention it deserves. —Ellen Johnson
Quill
Boston-based Quill were used to opening for major acts, taking the stage before The Who, Grateful Dead, Janis Joplin, Sly and the Family Stone and more at large venues. So it's no surprise that they took the first time slot on the second day of Woodstock and crushed it, bringing their own unique brand of psychedelic blues to Bethel, N.Y. The buzz surrounding their set earned Quill, founded by brothers Jon and Dan Cole, a record deal with Atlantic subsidiary Cotillion, but after their debut self-titled LP didn't sell well, they were dropped and disbanded by spring 1970, about six months after their Woodstock set. But their only album, chock full of bruising guitar lines and unique percussion, eventually attained a small level of cult status, even as the Cole brothers left the music industry altogether. —Steven Edelstone
Richie Havens
As with many artists, Richie Havens got a generous boost after performing at Woodstock, but he also got the chance of a lifetime that others didn't get. Havens kicked off the festival and because many of the artists due to perform were stuck in traffic, he was asked to keep playing—and according to his own recollection, did so for around three hours. In that time, Havens' blend of folk and soul washed over the masses with his vigorous, rhythmic acoustic guitar strums and a messianic voice, nursing a life's worth of pain. The most notable moment of his set was "Freedom," a bluesy, vibrating song he had to improvise after running out of songs, and it was later featured in the Woodstock concert film. After Woodstock, he continued to make music—releasing his best-selling album Alarm Clock in 1971 (which reached number 16 on the U.S. charts)—and even ventured into acting—performing in the original stage version of The Who's Tommy and playing Othello in the 1974 musical film Catch My Soul. —Lizzie Manno
Sweetwater
While Richie Havens opened the festival, it was technically Sweetwater that was set to perform first. Since they were stuck in traffic, the band was helicoptered in and played later. They were, however, the first full band to play the fest. Sweetwater had eight original members, meaning they had a versatility that most rock bands didn't have at that time. Flute, cello and congas weren't a part of most bands, especially groups like Jefferson Airplane and The Doors, whose music mirrored Sweetwater's sultry, groovy psych-folk. Sweetwater released three studio albums—1968's Sweetwater, 1970's Just For You and 1971's Melon—and their eventual split was as a result of lead singer Nancy Nevins' car accident, which caused vocal cord damage. They performed live alongside nearly every major act of the 60s, and later reformed in the '90s. —Lizzie Manno
Tim Hardin
The few who know Tim Hardin's music hold it dear and the majority who don't are understandably unfamiliar with his work. His work is revered by musicians like Bob Dylan, Rod Stewart, Neil Young and Robert Plant, and his most famous song "If I Were a Carpenter" was covered by Johnny and June Cash, Joan Baez and Bob Seger, among others. The folk singer/songwriter and composer died at age 39 in 1980, and despite Hardin's inclusion on the Woodstock lineup, his career was marred by heroin use and stage fright. His Woodstock performance, however, was a masterclass in acoustic and piano-driven folk. His graceful love songs, each bolstered by his deeply spiritual voice, will remind you of the cruelty and beauty of fate. —Lizzie Manno