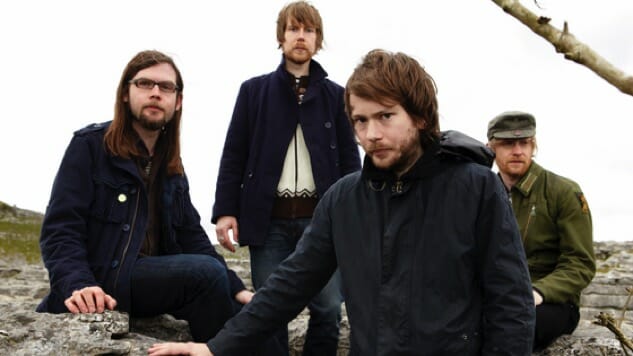 In an ideal world, nature and humanity would level much greater respect for the symbiotic rules of engagement that are crucial to the other's successful existence. The dichotomy, of course, lies in the narrow space between nature vs. humankind?how humankind cannot exist without the calculated chaos of a natural world unaware of the insistency of its own wrath. Sooner or later there is a breaking point, and it is one or the other that stages a temporary victory. Jack Sharp, the eloquent vocalist/guitarist of English progressive psych-rock tricksters Wolf People, was no longer interested in splitting the difference on the band's third album, Ruins.
"I found it quite comforting to imagine what the world would be like suddenly without humans on it," explains Sharp via phone from his home in Bedfordshire. "I just started to daydream about what that would actually look like and how it would feel."
Sharp?who along with drummer Tom Watt, guitarist Joe Hollick and bassist Dan Davies form the core of Wolf People?grew up in the English countryside, but was born in London's Southeast quadrant, an area ravaged by German bombing strikes during the Second World War. When Sharp was a boy, many of the neighborhood's blocks were still without buildings since being destroyed, giving way to temporary ghetto jungles right in the heart of the city.
"You'd see smashed glass in them, but you'd also see loads and loads of animals and plants and young trees growing in these places," Sharp says. "It was amazing to me how if you just leave something, how quickly it gets overtaken."
So goes the thematic arc of Ruins' overtures, though Sharp insists this is no concept record. Whereas the band's hotly buzzed-about 2013 LP Fain delivered a masterful interdependence of folk-like storytelling and toothsome proto-metal, on Ruins, Sharp's decidedly darker duties tackle the repossession of modernity's flashy traps by the very earth they were sprung from. Add in an affinity for creepy English folktales, woodwinds, Sabbathesque riffage and prog-rock curlicues and you've got yourself a beacon of hope for druid-apeing, rune-seeking roamers the world over.
And that's the thing: Wolf People are nearly there. Ruins is the type of album that could sway the tide further in their favor, to give a more focused run at the life of a touring, recording band. As it stands, the foursome's palavers are regimented, rare affairs. Each member of the band lives in a different part of England, with day jobs, making regular rehearsals and shows difficult. Were the band somehow able to without consequence or much effort tour the States with Ruins in tow (as is rumored/hoped for sometime in 2017), Wolf People would be a band on the lips of every rocker in the country.
"Having that long process of making stuff I found really frustrating," Sharp says. "I wanted to get things done quicker and we wanted to make this record a lot more immediate."
The specter of the group's infrequent rehearsals is a non-factor when listening to Ruins, however. Captured in a nexus where the decadence of prog is tempered by the soul of folk, and where the English countryside of the band's upbringing is reexamined to conjure fables old and new, Wolf People songs come crunching, exploring hypnotic guitar interplay, big-beat drumming and agile low-end. Sharp's lyrics often teeter on a medieval spectrum?odes of yesteryear bridging mythical preoccupations and tall tales to edgier aural confines. These songs sound as if they'd just as easily fit in sung round a LARP campfire on the outskirts of Bedfordshire as they do amplified on a club stage. The most perfect environment, probably, was during Wolf People's 2014 stop in Happy Valley, Oregon, at Pickathon, where their set at the forested Woods Stage presented a wizardly marriage of the band's imagery with their surroundings.
"Ninth Night," the first single from Ruins, begins shyly enough, a sweet-sounding acoustic guitar coyly picking notes just before a fuzzy squall crescendos and gives birth to a heavy Zeppelin shuffle. It's a more-or-less straightforward heavy jam ball-buster at its heart. Listen closer for the eerie twist: The song's lyrics are taken from, as their bio intimates, "an incantation once whispered by 18th century burglars and vagabonds while toting the famed Hand of Glory—the stolen hand of a hanged man, dipped in wax (or alternatively a candle made from human fat). Once lit it was believed to lull victims into a deep sleep. '"Let those who rest more deeply sleep/Let those awake their vigils keep/Oh hand of glory shed thy light/Direct us to our spoils tonight…"
For Sharp, that kind of esoteric historical footnote is what drives his lyrical ambitions.
"You can sing about anything," he explains. "I've always found it easier to make lyrics interesting by singing about stuff that's a bit weirder. I always think about it as just imagery. When I listen to stuff I really love, for the music to have a feel to it, you want pictures to go along with the music. I'd like to think that there's more to the lyrics than I can initially understand in one hearing. I like to think that it's maybe going to take me years to work out what someone's actually trying to say. There are lyrics that I absolutely love but I don't think I understand."
"Night Witch," the album's second single, is a frightening-sounding narrative with occultist imagery that's actually about female Russian bomber pilots from the Second World War. The pilots were nicknamed night witches thanks to the elusive stealth of '20s-era Russian planes originally designed for crop-dusting and training, but ideal for quiet, surprise night raids against the Germans. The wooden-canvas Polikarpov Po-2 biplanes had a maximum speed slower than the stall speed of the German Messerschmidt planes, which made them difficult to shoot down once detected.
Sharp's image-rich lyrical translation exclaims, "I'd fly every night if I could/On wings of paper and wood/delivering death wherever I go/as graceful and quiet as snow/as snow so heavy so ceaselessly falls/I will bury you all/I am night witch."
"I liked that imagery," he says, cheerily. "I read about one in particular, named Nadezhda Popova. I read her obituary in the paper a few years ago and found it fascinating. I always thought I'd like to write something about that at some point and just kind of came up and it fit with the music quite well."
Through Sharp's uniquely bucolic prism, the collapse of invincibility in awe of the pulse of our beating world is given a fittingly varied soundtrack on Ruins. It just as easily could have become the score to a Hessian melodrama, as enraptured by obscure Swedish psych and rare British metal as the band is. Luckily, their better judgement usually overpowers their reactionary rock 'n' roll tendencies.
"We were listening to a lot of Iron Claw and saying 'man, we should just do this! Fuck complicated rhythms and stuff, we should just plow into this massive riff thing!'" Sharp relates. "We were also conscious that we didn't wanna sound like another band who was ripping off Black Sabbath."